Narita & Haneda to Nagano Ski Resorts
Destination Joetsu Myoko is pleased to help offer a variety of private Myoko shuttles to/from Narita, Haneda and Tokyo to/from Myoko, Joetsu and Madarao Kogen. Myoko Inter-resort shuttles and airport transfers are also offered to/from Hakuba, Nagano Station, Shiga Kogen & Nozawa Onsen.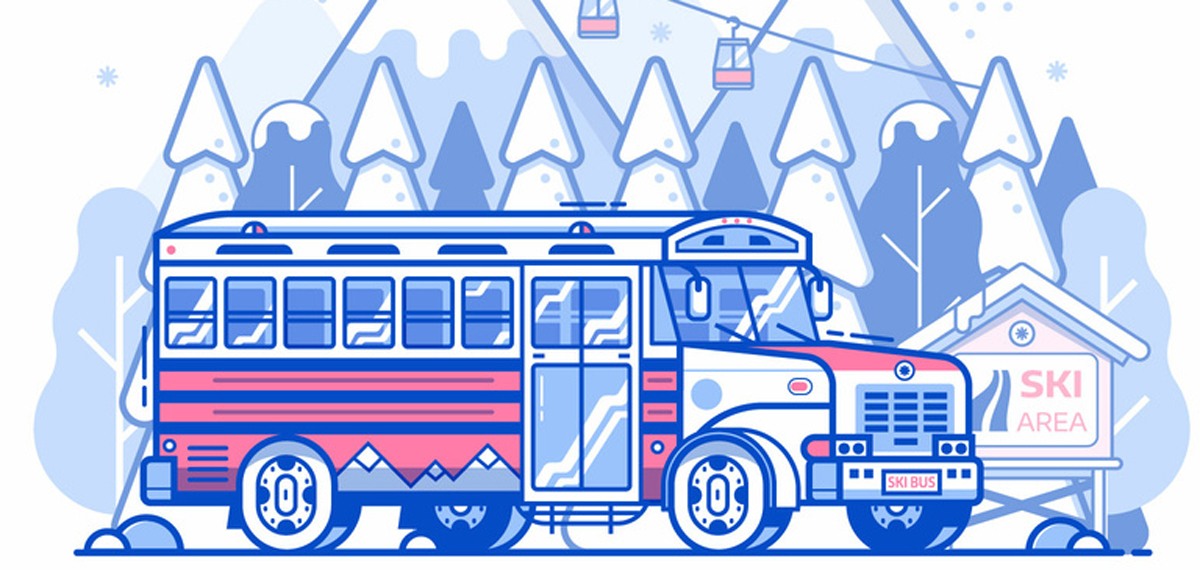 Tokyo to Myoko Shuttles
Narita & Haneda to Nagano Ski Resorts
If you need transport from or to Tokyo airports to Madarao Kogen and other Nagano ski resorts, a shared taxi van ride right to your hotel door (ex Haneda or Narita airports) is ¥18,900 one way, per adult/teen (70% for U/12) including luggage allowance, taxes and name sign at the airport. Taxis usually depart the airport within 30-90 minutes of your arrival time. Sometimes these are full, other times it may be yourselves only. *Please note this service is no longer offered to Myoko Kogen.
A chartered direct service to/from airport/hotel is usually ¥125,000-¥149,000 each way for a group of up to 7 with luggage depending on which resort (includes the Myoko ski resorts). For larger groups please complete the form below for a quote.
Alternatively Nagano Snow Shuttle has five scheduled airport shuttles per day to/from Narita and three to/from Haneda, starting from 10,900 each. This can be requested here.
Transit time to Myoko or other Nagano ski resorts from Tokyo/Airports for all these services is approximately 4.5 to 6 hours depending on traffic and weather conditions.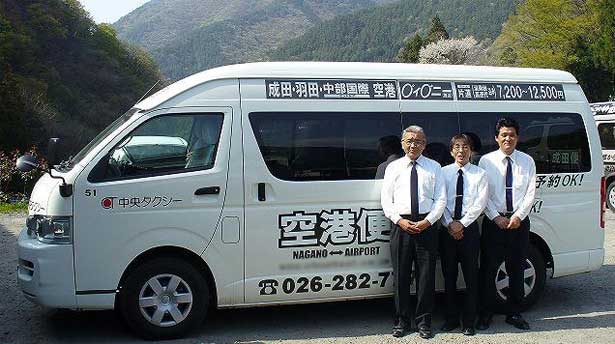 Myoko Inter-resort Shuttles
Myoko Inter-resort Shuttles are offered to/from Hakuba, Nagano Station, Shiga Kogen, Nozawa Onsen & Madarao Kogen
Private groups shuttles from door to door are available and usually cost between 45,000 – 60,000 yen per van. The price depends on availability from the 2 companies we deal with and the number of guests. For additional cost, stopovers (such as Snow Monkeys) can be added on. Please download, complete and email this form to book.
Nagano Snow Shuttle has three inter-resort scheduled shuttles per day starting at 5,900 each which can be requested here.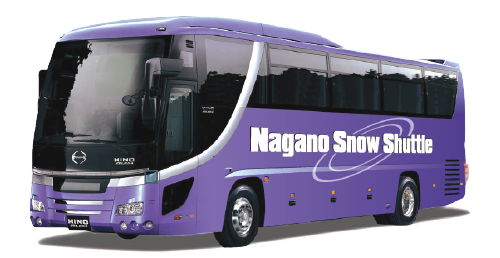 Myoko Day Tours
We can assist in arranging Myoko day tours for groups. Please complete the form below with your needs for a quote.
Notes re Myoko Shuttles
All services for the Joetsu-Myoko Ski Resort Shuttles must be pre-booked. We recommend booking at least one month ahead, especially for the busy Xmas/NY/January period. Please note that we can't book services for you less than one week ahead.
Payment is due within 7 days (or immediately if within 7 days of transfer) and can be made via A$/¥/$HK/RM transfer or credit card (+3.25% surcharge applies).
Please see below for booking information & conditions

Powered by

EMF
Contact Form
Notes re private shuttles

For shuttles ex Airport or Train Station, the driver will wait at the arrival gate or designated meeting point holding your name card;
For inter-resort shuttles or to Tokyo, the driver will meet you in the entrance lobby of your hotel 10 minutes prior to departure;
English assistance is available via phone if no English speaking tour guide is provided on the bus;
Surcharges may apply for car parking, late night operations (22:00 – 05:00), route detours and guides;
On days where weather or traffic conditions affect the flow of traffic, arrival will be later than estimated;
The bus will depart as soon as all passengers are accounted for;
The bus size varies depending on the number of passengers;
No entrance fees or other costs are included for requested stopovers;
Passengers will not be required to transfer during their journey. This is a direct service (with any stopover as pre-arranged);
Comfort stops will be available during the journey. Please request if required;
Rate includes driver(s), fuel, taxes and road tolls (most direct route with no detours);
These services are not run or operated by Explore the Heart of Japan. Your service is arranged via private providers.
Booking terms and conditions
Bookings are subject to the carriers terms and conditions;
Requests for changes or cancellations should be sent via our contact page or email with at least 72 hours notice. Extra fees may be applicable;
In the event that your journey is delayed (inc. late return at the Snow Monkey Park) additional charges may apply. This is solely at the discretion of the carrier;
In the case where guests are delayed/miss the bus for reasons other than delayed transport (e.g. missed train), 100% cancellation fee applies;
Cancellation fees are as per our booking confirmation. "Cancellation" includes changes that reduce the overall value of the booking.
Tags: Tokyo to Myoko Shuttle, Tokyo – Myoko Shuttle, Private shuttle, Myoko Day Tours, Myoko Inter-resort Shuttles, Transfer Request, Inter-resort Shuttles