"The highlight is the vast family park" – check reviews of Kurohime Kogen Snow Park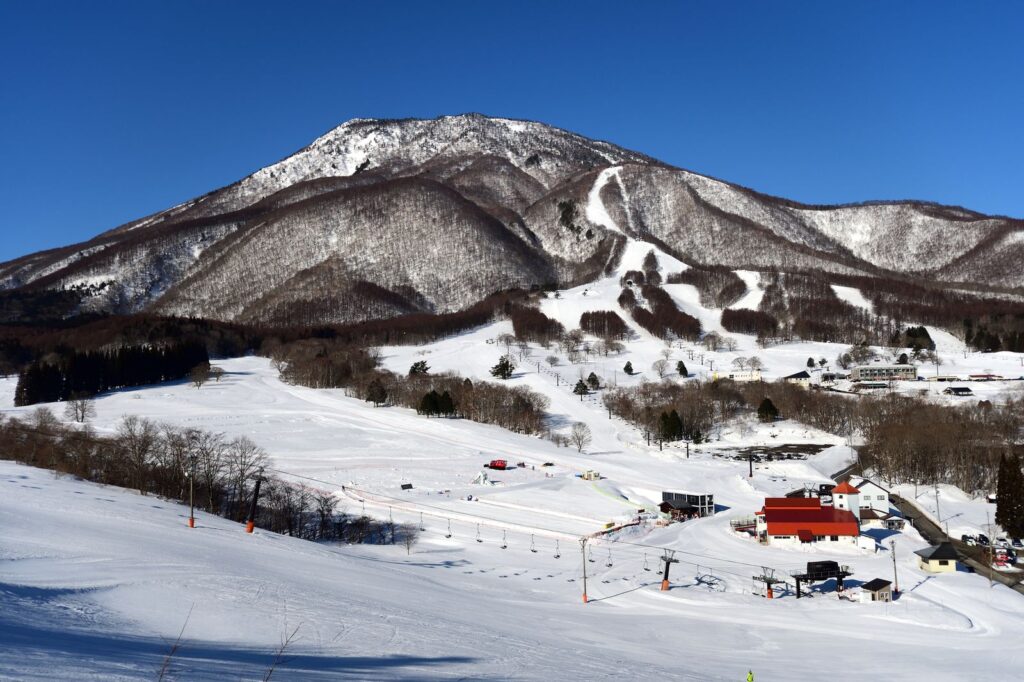 Kurohime Kogen Ski Resort
Kurohime Kogen Snow Park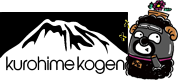 Kurohime Kogen Ski Resort (aka Kurohime Kogen Snow Park – 黒姫高原スノーパーク) is located in on the eastern slopes of Mt Kurohime in Shinano-machi, just across the Nagano border from Myoko Kogen. Great views of Lake Nojiri, Madarao Kogen and Mount Myoko to the north can be enjoyed on a clear day from the slopes.
There is a huge family and snow play area available with sleds, tubing, strider bikes and lots of other activities (see Facilities tab below). The resort is open mid-December through late-March (depending on snow conditions).
A day or two here will best sate your curiosity before moving onto Shiga Kogen, Nozawa Onsen, Madarao Kogen or one of the nearby Myoko ski resorts. Alternatively it's a relatively easy day trip from all those resorts, especially Myoko Kogen.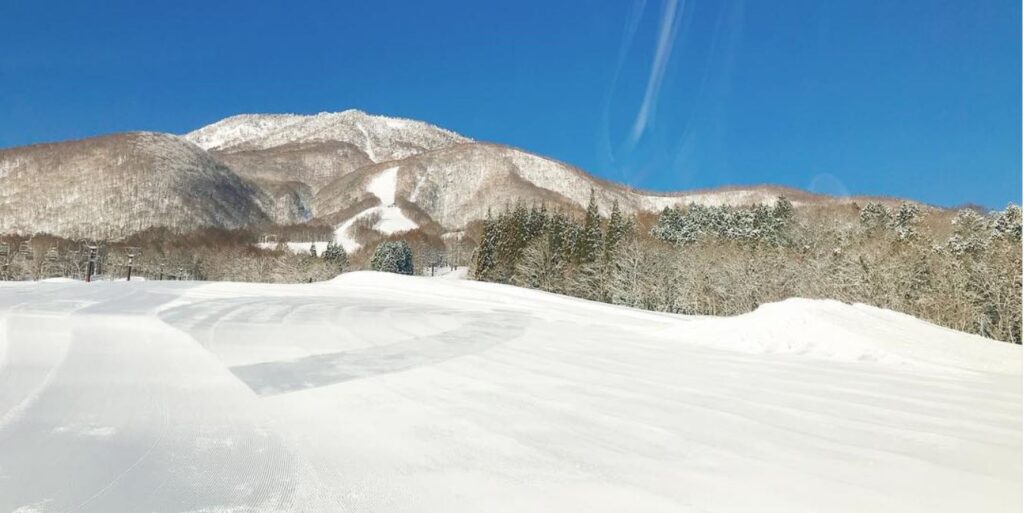 Kurohime Kogen Ski Resort Info Box
Info
Tickets
Accommodation
Facilities
Webcam
Trail/Park Map
Videos
Access/Map
Stats/Info: Kurohime Kogen Ski Resort

Kurohime Kogen Ski Resort is a small to medium sized ski area with 430 metres of vertical and has two distinct areas. Lower zones for learners/beginners and the upper zone with a few intermediate runs. There is a handful of low-angle advanced runs which can be fun when the powder is pumping.
Five ski lifts operate at Kurohime Kogen Snow Park (one quad lift and four pair lifts) servicing ten official ski and snowboard courses. Additionally the Kurohime Family Park, two main park areas (BC and Cherry) plus a kids park area. There is a 3km/5km cross country course and a kids snow play / learn to ski area (Naka Soto or Kurohime No Mori Playground).
For advanced skiers there is a handful of tree runs, a little bit of sidecountry plus the opportunity to skin up the top course which is no longer serviced by a lift. Kurohime Kogen also employs Nobuo Otake – a well known park designer – to set out and maintain their parks (see video under Video tab).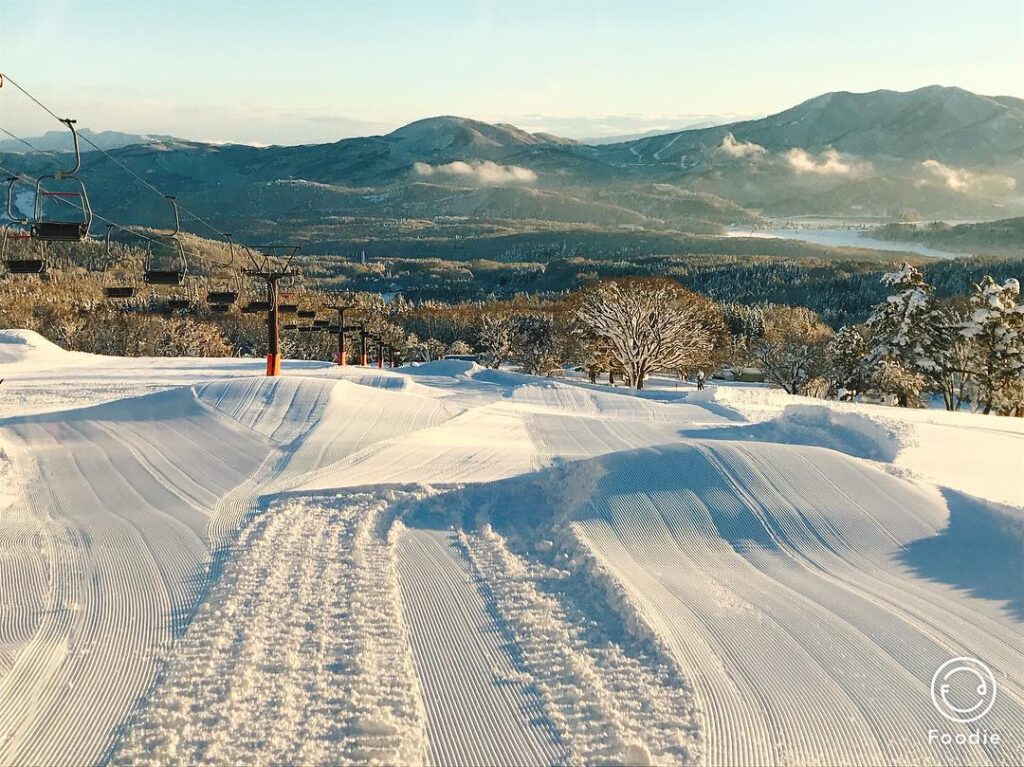 Lift Ticket Prices: Kurohime Kogen Ski Resort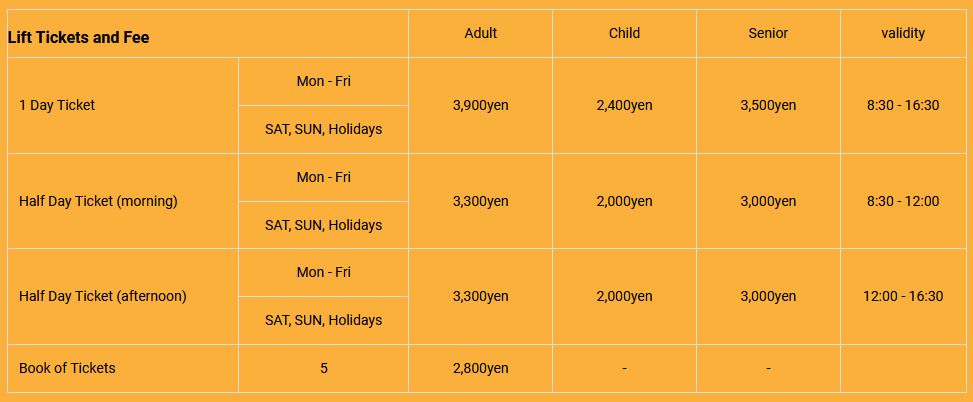 *Lift ticket prices are subject to change. Check here for current season prices (in Japanese).
Kurohime Kogen Ski Resort accommodation
If you have a car it may be easier to stay around the Myoko or Lake Nojiri areas. There is limited accommodation bookable in English around the area but, besides from those below, there may be some further options that can be booked via Rakuten, such as Log Pension Cecil Club, Pension Mori no Symphony, Kurohime Rising Sun Hotel and Log Cottage Sakura.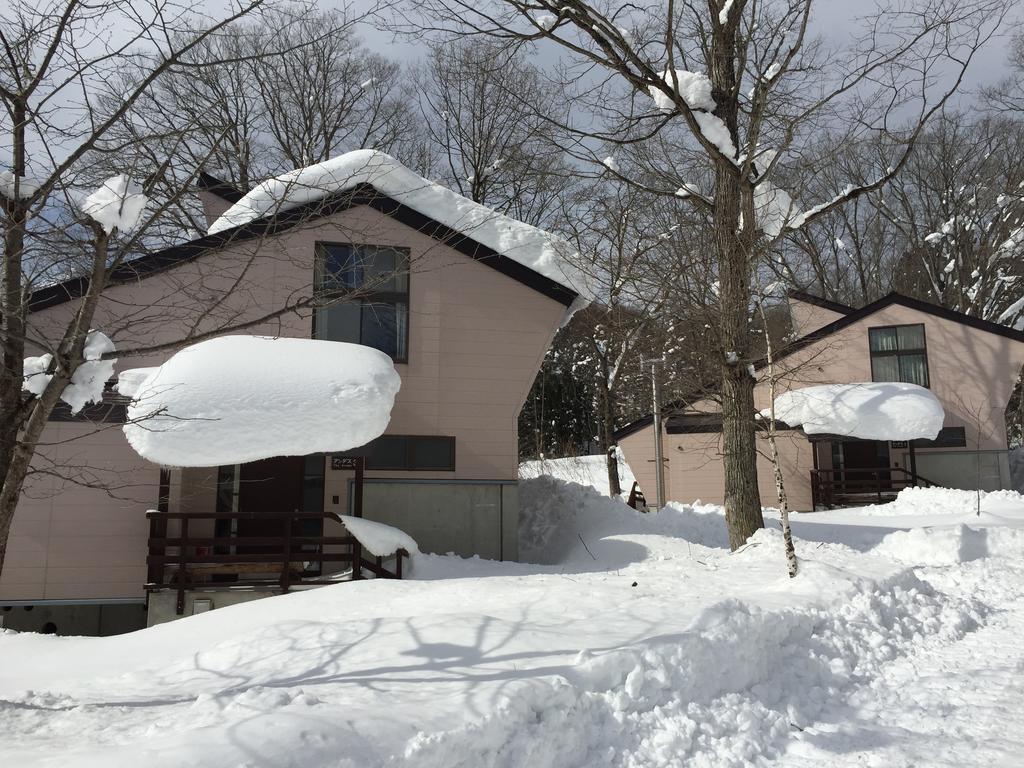 Labo Land is only five minutes by car from Kurohime resort. Transportation to and from Kurohime station available. Families and groups welcome.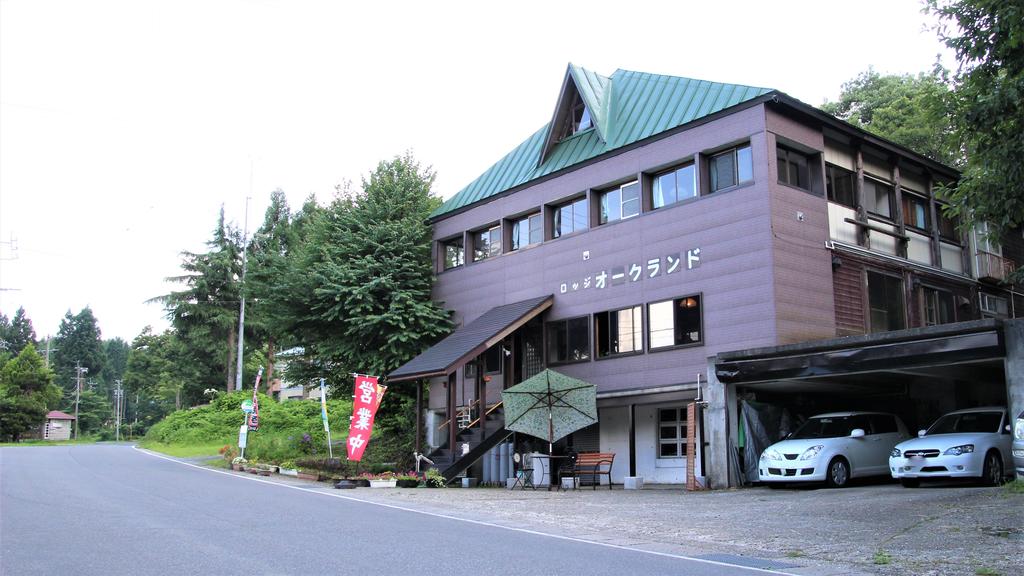 Lodge Oakland offers simple Japanese-style accommodation. Free parking is available on-site and Kurohime Ski Resort is a 5-minute drive away.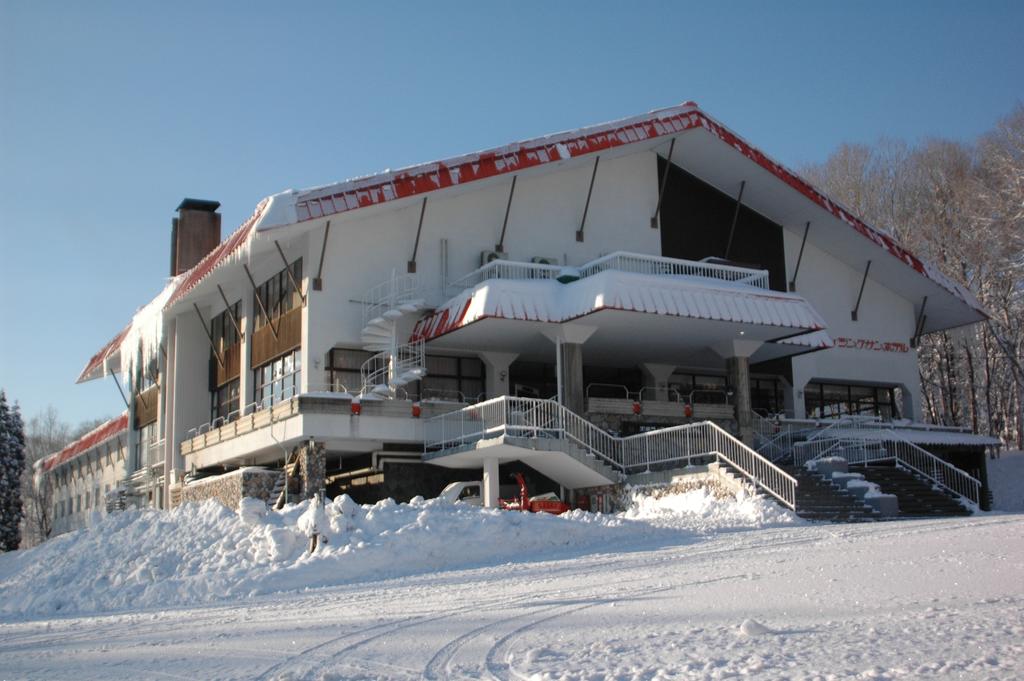 Featuring ski-to-door access, Kurohime Rising Sun Hotel offers a tennis court, bicycle rentals and Asian breakfasts. It provides a free shuttle from JR Kurohime Station.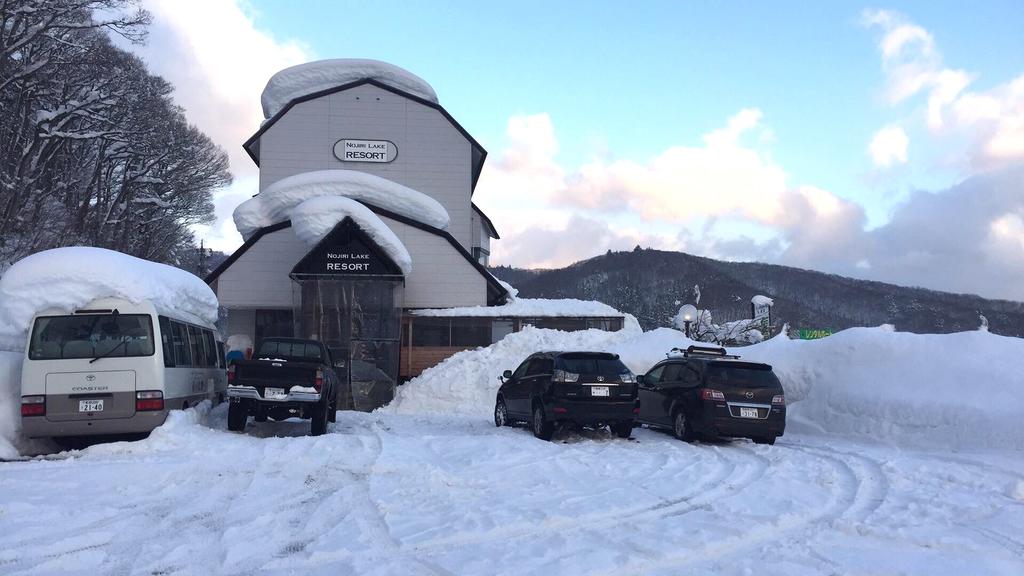 If you don't have a car then think about nearby Nojiri Lake Resort Hotel who will shuttle you to Kurohime and other resorts. Or check other Lake Nojiri accommodation options.
At the the beginners' base area you'll find 'Smile House' which comprises a nursery (reservations required), a mother care area and a kids ski school/rental shop (only in Japanese). This facility is meant for small children up to around age of 7 or 8, and there is also a restaurant that serves kids menu plus a buffet lunch for adults. There are various activities for both kids and adults, such as snow tubing, snow rafting, snow mobile experience, cat tour experience and a 'strider bike' area, all of which are relatively inexpensive. There is moving walkway 'Raku Raku Slope' in the park. Inside the family ski area is BC Café, serving great burgers, pizza and snacks, who have relocated down the hill from the Cosmo Plaza.
The mid-mountain base below Cherry Park has the Cosmo Plaza which offers a cafeteria, gear rental shop, plus a small retail/gift shop. For the kids there is a lift accessed snow play park and learn to ski area (Naka Soto or Kurohime No Mori Playground).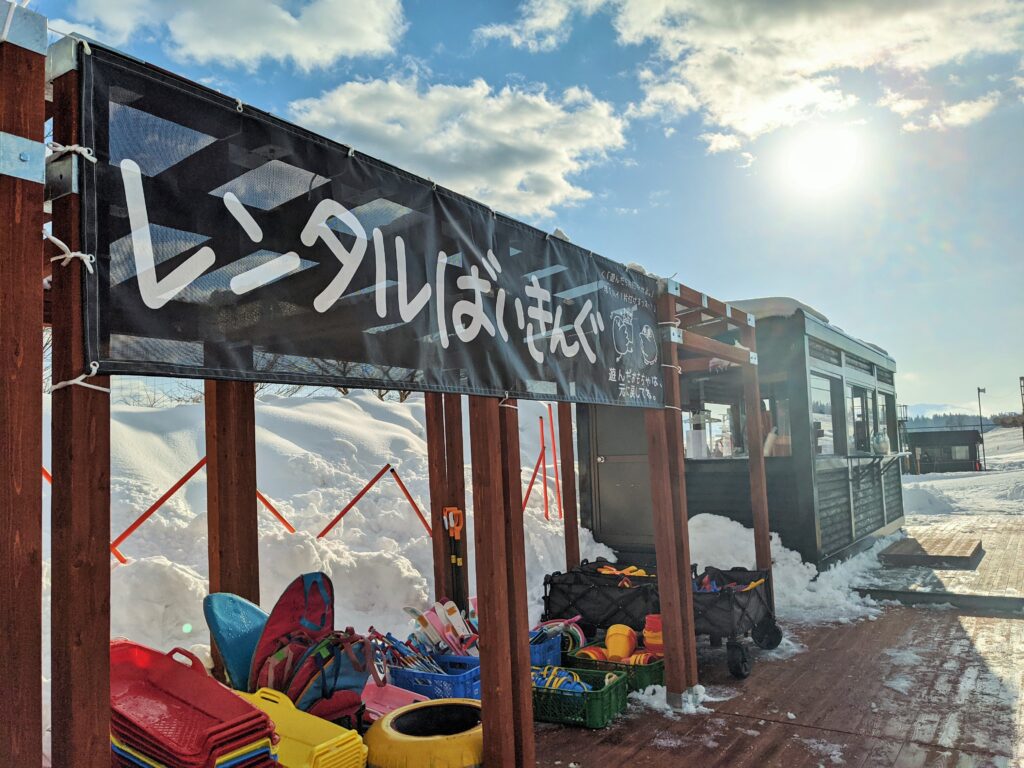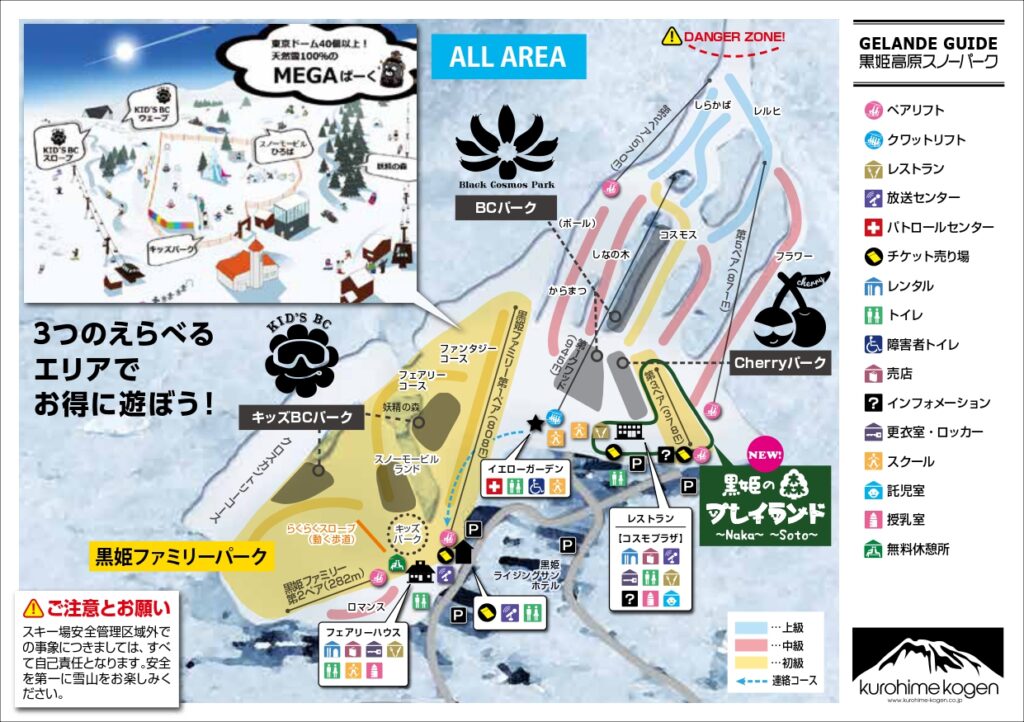 Kurohime Kogen Ski Webcam
>
Kurohime Kogen Ski Resort Maps
Kurohime Kogen Ski Resort Trail Map

Please note: The upper lift at Kurohime above the Shirakaba Course is no longer operating.
Kurohime Kogen Snow Parks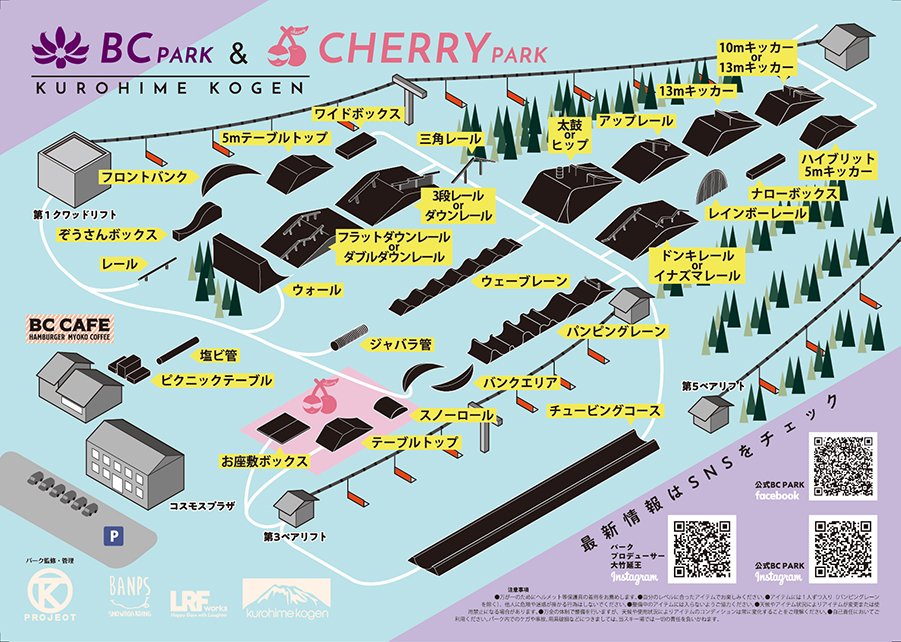 Kurohime Kogen Family Area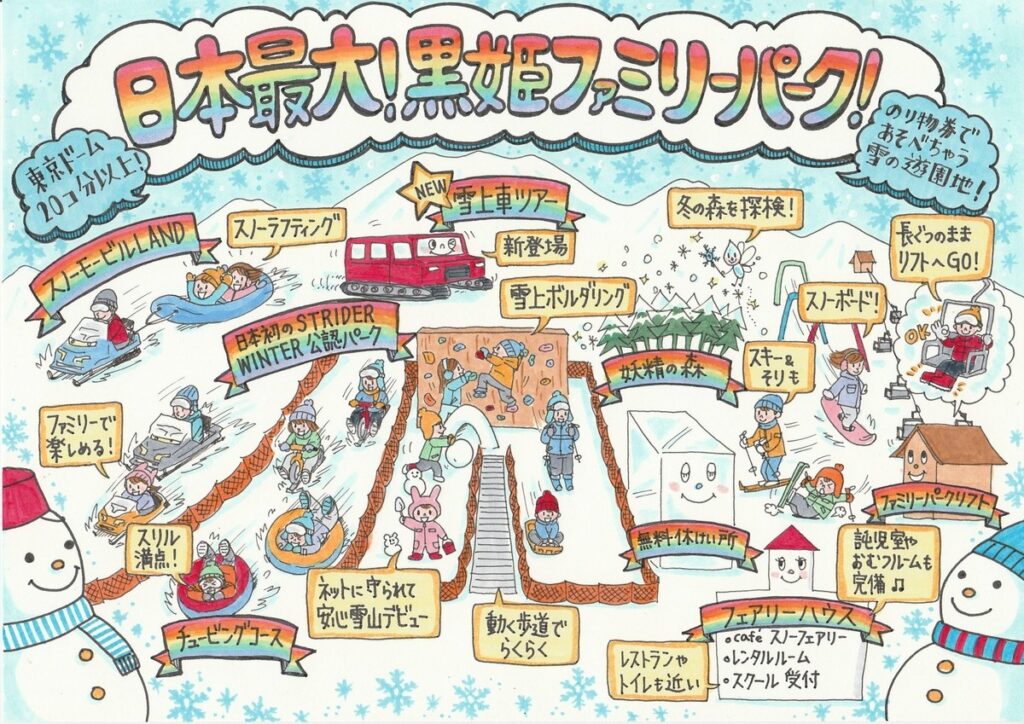 Kurohime Kogen Ski Videos
This ski resort is accessible by car, but there is also a regular bus service that runs between the ski resort and Kurohime Station (about 15 minutes) plus an irregular free shuttle bus.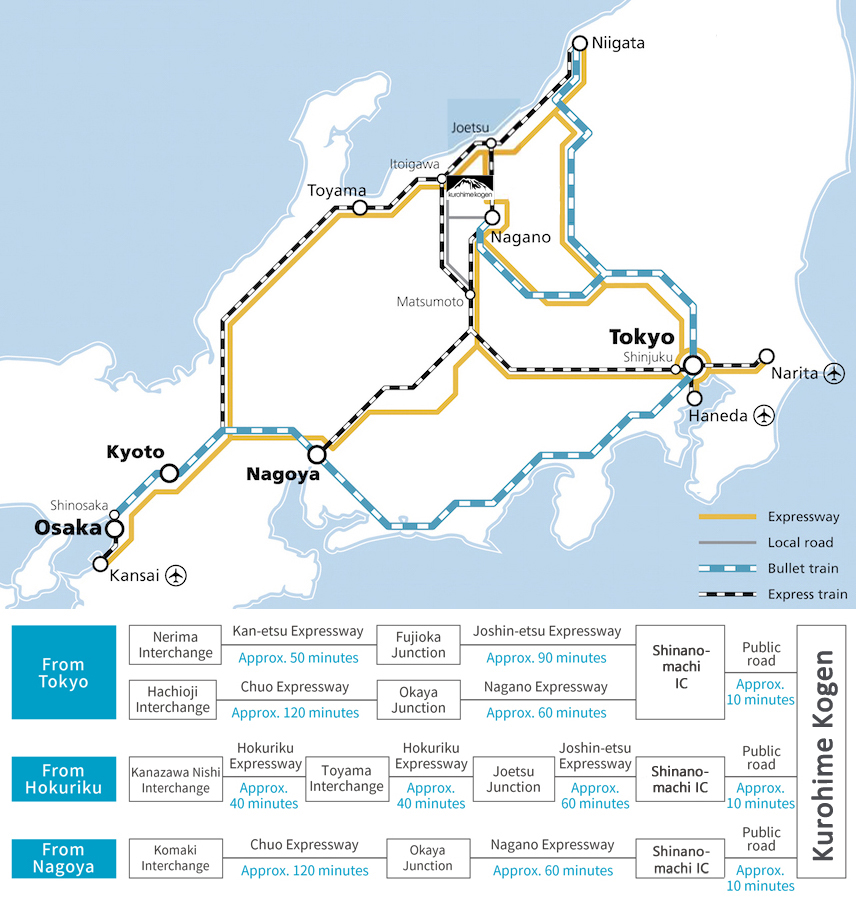 If you are coming from Tokyo Station, take the Nagano or Hokuriku shinkansen (bullet train) and get off at Nagano Station. You can then change to a local train (Kita Shinano Line) that is heading for Myoko Kogen before getting off at Kurohime Station (second to last stop).
If you have a car it may be easier to stay around the Myoko or Lake Nojiri areas. The telephone number of Kurohime Kogen for GPS navigation is 026-255-3171. Parking at the base of the resort is free.
Kurohime Kogen Ski Resort Reviews
See more reviews of Kurohime here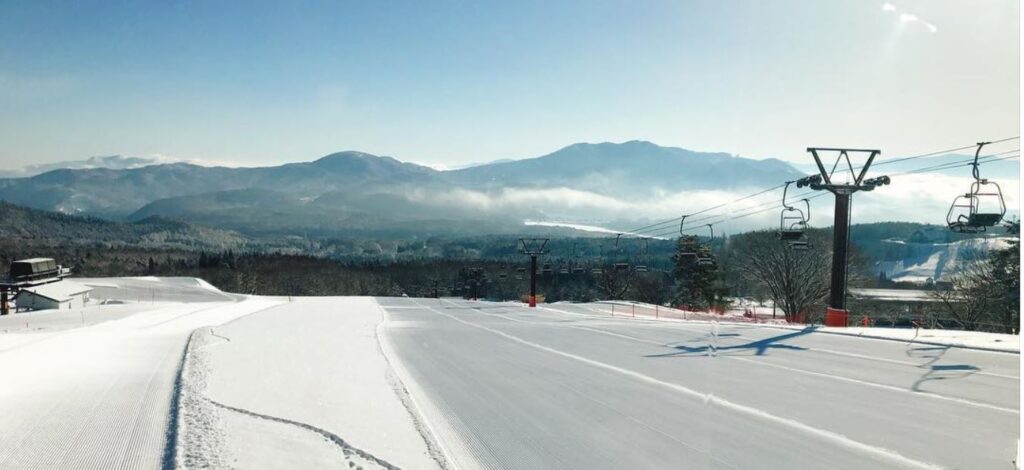 Tags: Kurohime Kogen Ski Resort, Ski resorts near Myoko Kogen, Ski resorts near Madarao Kogen, Kurohime Kogen Snow Park