Coming to ski in Japan and thinking about a Myoko car rental? Increasingly in recent years many visiting skiers to the region choose to rent cars for their Myoko ski trip. Whilst it is not always straightforward to hire a van or car in Myoko, neither is it too difficult.

Myoko Car Rental | Hire Car in Myoko
Rent a car in Myoko and Joetsu
Renting a car for your Myoko ski holiday is a great idea.  Public transportation in Japan is renowned for his excellence, but it doesn't always get you close to the Myoko Kogen ski resorts. Nor do local resort shuttles necessarily – especially if you want first tracks. Car hire in Myoko will give you that convenience and freedom and you won't be tied to timetables. For your rest days it's great to explore and see some of the sights, do some shopping or find a hidden onsen. Plus Myoko car rental can also be an economical choice if you are travelling in a group.
Apart from Akakura Onsen and Akakura Kanko , there are another 7 resorts all within 30 minutes of Myoko Kogen (Kurohime Kogen, Ikenotaira Onsen, Myoko Suginohara, Seki Onsen,  Arai Ski Resort, Madarao Kogen and Tangram Ski Circus) plus numerous others within 45-60 minutes inc. Cupid Valley,  Nozawa Onsen, Togakushi, Ryuoo, Hiuchi Charmant and Shiga Kogen.
Myoko Car Rental Booking Search
There are two options for getting a rental car in Myoko Kogen.
Hiring a van or car from Joetsu-Myoko Station
Myoko car rental location: JoetsuMyoko Station
Best pick up spot for: Myoko Kogen Resorts, Lotte Arai Ski Resort, Hiuchi Charmant, Cupid Valley
Unfortunately there are no local rental car options for foreign visitors in the village area surrounding Myoko Kogen. The best options are at JoetsuMyoko Station with the car rental shops either next to or adjacent to the station exits (see map below). From there it's a straightforward 25-30 minute drive up Route 18. Enter 'Joetsu' in the search box above to find the best car deals. Using the terms 'Myoko Kogen' or 'Myoko' will also bring up some options.
Joetsu Myoko Car Hire Map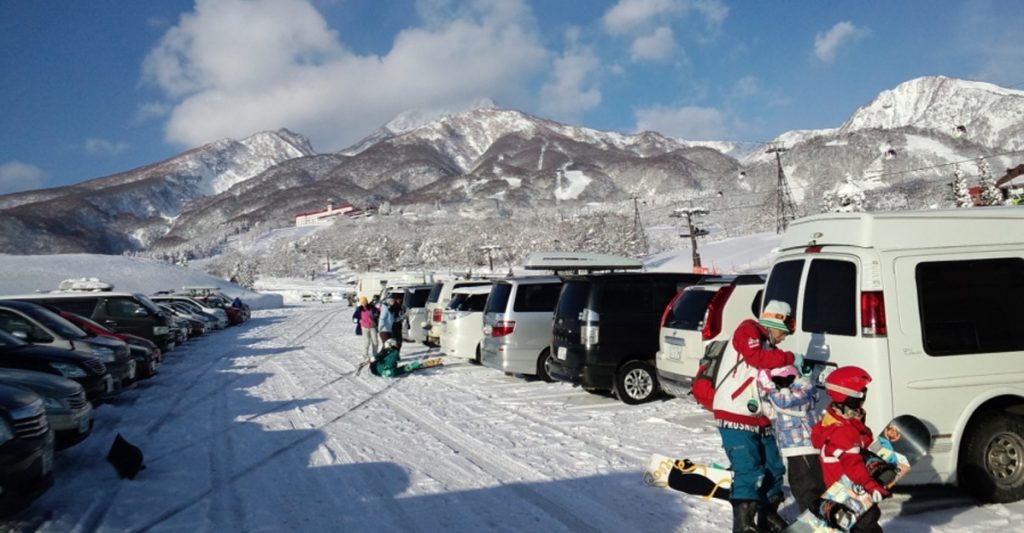 Hiring a car for Myoko at Nagano Station
Nagano car rental location: Nagano Station
The other option is Nagano Station. It is a similar distance to the Myoko Ski Resorts and navigation is a little trickier, but certainly doable with a GPS. It also saves the extra fare/time between Nagano and JoetsuMyoko. Enter Myoko Kogen or Nagano in the search box at top to find the best car deals.
Best pick up spot for: Togakushi, Shiga Kogen, Kurohime Kogen, Myoko Kogen Resorts
Nagano Car Hire Map
Exactly where are all the local ski resorts?
The map below covers just about all ski resorts in the region of interest to foreign skiers and their location in regard to major train stations and Myoko car rental locations.
Important notes about car rental in Myoko!
Do make sure to have a valid international drivers licence and proper travel insurance covering any excess/liability;
Driving conditions here can be much more hazardous than in your home country. Check snow reports and drive carefully;
If renting in Tokyo or Narita do make sure the car is fully winterised and 4WD (these options are free in Nagano);
Japan has zero alcohol tolerance for driving. If you drink anything, don't drive;
Some local hotels and ski resorts charge a parking fee when visiting (500-1,000 yen per day). Book accommodation with a free car park and make sure not to park in an undesignated parking spot (fines can be steep);
We'd recommend taking English GPS if there is an option available. If you have a wifi rental or roaming you can use Maps on your phone. If you can only get a Japanese GPS here are video instructions to help you: Part 1 and Part 2;
Remember to lift up your wipers when you leave your car to prevent them sticking to the windscreen and don't put on your handbrake as it can freeze on. Instead make sure it is in gear and on a flat surface;
Ask your hotel if you can borrow a shovel and squeegee/scraper during your stay. These are definitely essential items on big snow days! If not, buy some cheap ones from a hardware store;
Go here for a comprehensive guide on winter driving in Japan.
Also, a note of warning. Beware of "car sharing" situations. Until 2021 Uber and any type off car sharing was illegal in Japan. That means that if you are paying money to use a private vehicle that hasn't been registered as a rental vehicle under the new regulations, any insurance for that car will be considered null & void. It will not cover you in case of accident irregardless of what the vehicle owner tells you.
This is why you need a shovel and scraper!
Tags: Myoko Kogen vehicle hire, Nagano Station Car Rental, Myoko Kogen car rentals, Akakura Car Rental, hire car in Myoko