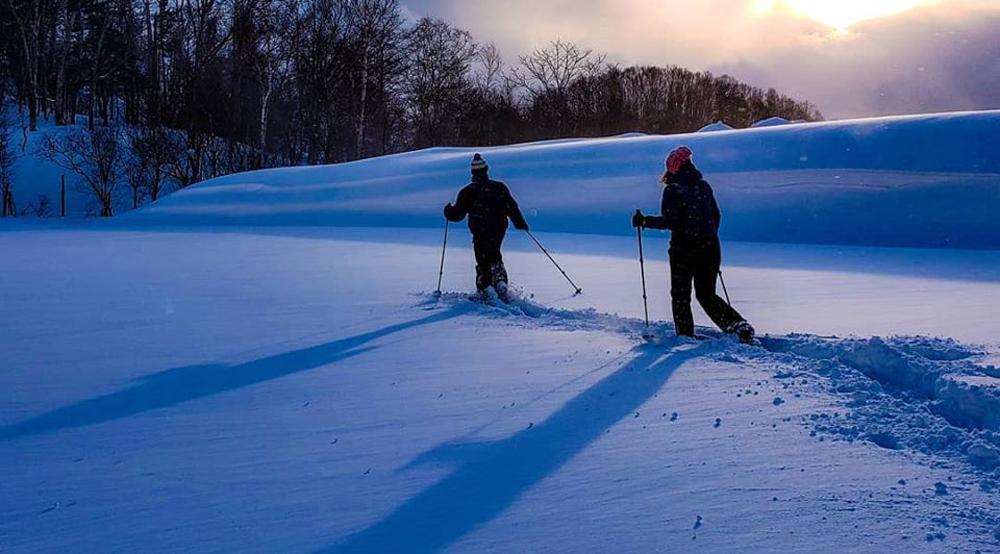 Myoko Snowshoe Tours
Introducing Myoko Snowshoe Tours. Have you ever wanted to move silently through the forests and snowfields in the stillness of winter? With snowshoe trekking, you will discover a completely new side of Myoko's rich natural world. Snowshoeing opens up ordinarily inaccessible snowy slopes and forests.
Unlike skiing's fast-paced downhill descent, snowshoeing lets you leisurely enjoy the beauties of Myoko's forests in winter. You will see the footprints of the many animals living here, including rabbits, tanuki, foxes, squirrels and kamoshika, and may even see the animals themselves. From the trees come the calls of countless birds. The forest has a completely different, almost pristine beauty in the winter, and, as you move higher, the landscape suddenly spreads out all around you.
Lake Nojiri Snowshoe Tours
Want to try snowshoeing in Myoko Kogen? A great snowshoe tour means you can go walking around Biwa Island at nearby Lake Nojiri. Free transport is available for parties of more than three. Contact us for more details.
Lake Nojiri Snowshoe Tour video
Self guided Myoko Snowshoe Tours
There are three courses to choose from at Ikenotaira Onsen – the beginner Squirrel course, the intermediate Fox course, and the long and advanced Rabbit course.
The Squirrel Course is flat and winds around a forest, making it the best choice for first-timers and children.
The Fox Course crosses through a thicker forest with steeper inclines, making it difficult and a little intimidating for first timers. The course is named after Fox Pond, a small pond that the trail loops around towards the end.
The Rabbit Course goes higher up Mt. Myoko and is an extended version of the Fox Course. The route goes uphill and gives excellent views on clear days. The trails are all self-guided and easy to follow. Guides are also available to help for 300 yen from the information center.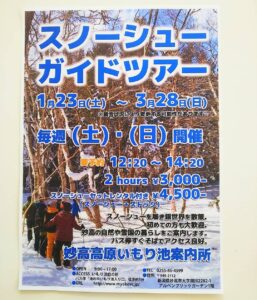 Have your own snowshoes or would just like to rent some? Rental equipment and information is available from the Myoko Kogen Visitor Centre next to Imori Pond (closed on Wednesdays and Thursdays).
Guided Myoko Snowshoe Tours
Myoko Kogen snowshoe trekking tours take place in Ikenotaira Onsen and runs from mid/late January until late March. The Myoko snowshoeing program provides everything from a basic course to genuine snowshoe trekking with a mountain guide. Try the new evening tours for something different. Prices start at 3,000 yen for a two hour program. Half day or full day programs are also available. Give the Myoko Kogen snowshoeing program a try. Contact us to book a tour, or check the contact details on the flyer (right).
Myoko Kogen Snowshoe and Hotel Plan
The owner of Park Lodge Sekine, Sekine-san, is an experienced snowshoeing guide. He is always happy to take his guests on snowshoe trekking tours. The pension, as well as Resort Project Myoko, has a special plan which includes a guided snowshoe trekking excursion. Contact us to book this special stay and snowshoeing plan!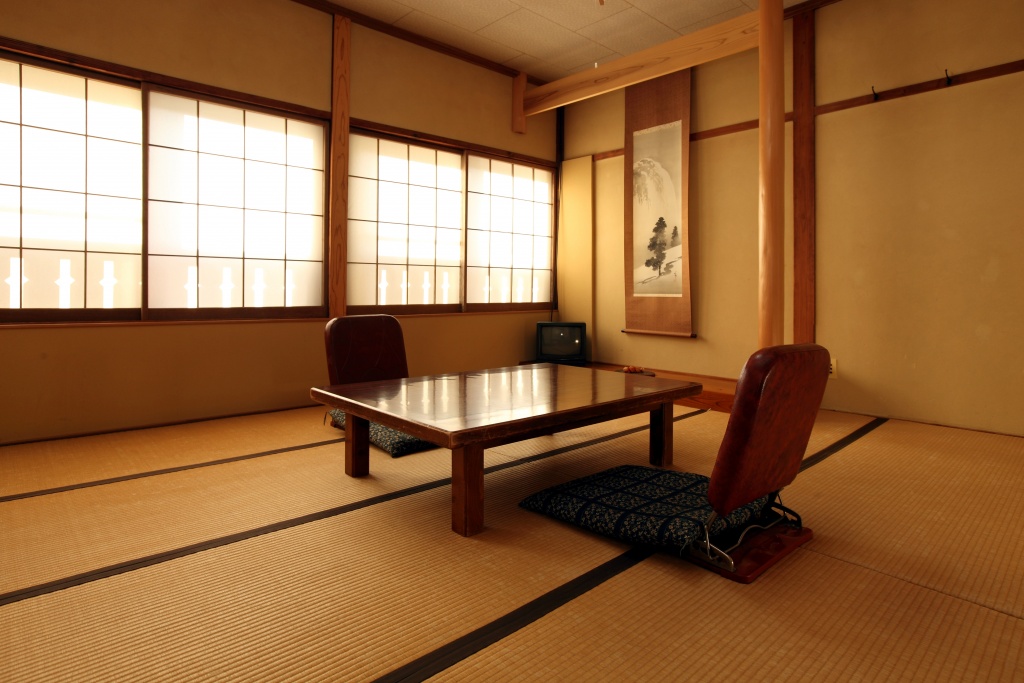 Read about one visitor's local snowshoe experience here