Access to the Joetsu-Myoko region from Tokyo and other major Japanese cities via public transport is straightforward. If you are wanting to travel Tokyo to Myoko via taxi, bus service or Myoko shuttle please see the information here.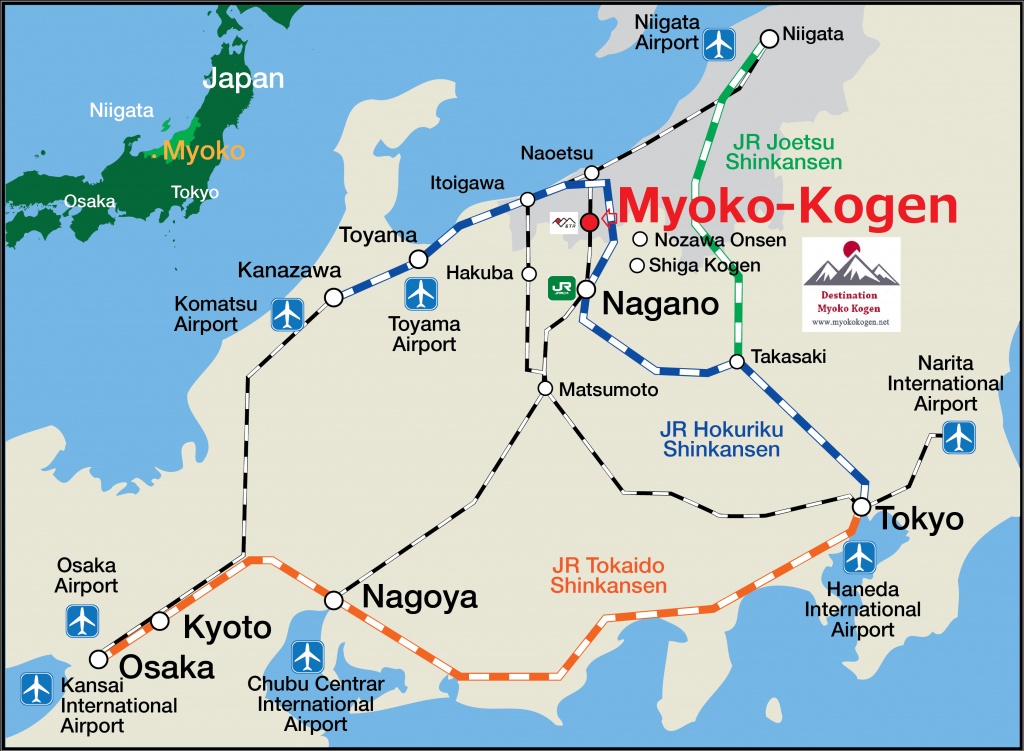 Tokyo to Myoko Kogen | Narita to Myoko
Using Public Transport
From Narita Airport
After your arrival, passport and customs clearance, head downstairs to the basement level JR stations, located in both terminals of the airport. The most convenient train is the Narita Express (N'EX), which leaves roughly every half hour for a 53-minute trip to Tokyo Station. Tickets for the entire trip up to Nagano or JoetsuMyoko Stations can be purchased here; JR East passes and Japan Rail Passes can also be exchanged at the JR East Travel Service Centers (see below). You can also take the private Keisei Line to Keisei Ueno Station and change to the shinkansen at nearby JR Ueno Station (roughly 7-9 minute walk).
From Tokyo Station
At Tokyo Station, head upstairs for the Hokuriku or Nagano Shinkansen (the station is always busy, but all lines are well marked—just follow the signs). These trains depart from platforms 20 through 23; all trains stop at Nagano Station, and some terminate. If you're heading on to JoetsuMyoko Station make sure to check your schedules (we recommend hyperdia.com).
If you are wanting to travel from Narita or Tokyo to Myoko Kogen via taxi, bus service or Myoko shuttle please see the information here.
Tokyo to Myoko: JRPass information
Please be aware that the legs from JoetsuMyoko and Nagano Station to Myoko-Kogen are not covered by the JR Pass. It's a private line.
JR East Travel Service Centers at Narita Airport
JR East Travel Service Centers can be found at both Terminal 1 and Terminal 2 at Narita Airport. The centres are open every day from 11:30 am to 7 pm, and handle the sale and exchange of the JR East Pass (available only to visitors from overseas on short-term visas of no longer than 90 days) as well as the Japan Rail Pass (covering all six JR regional companies, and which can only be pre-purchased overseas). Other services include ticket sales and sightseeing information.
If the JR East Travel Service Center is closed, go to the JR ticket office. Hours of operation:
Terminal 1: 6:30 to 11:30 am, 7:00 to 9:45 pm
Terminal 2: 6:30 to 11:30 am, 7:00 to 9:50 pm
JR East Info Line
Telephone English information hotline for questions about JR service
Tel: (050) 2016-1603
Hours of operation
10 am to 6 pm; closed during the New Year holidays
From Osaka, Kyoto and Nagoya to Myoko
There are two choices for getting to Myoko and Joetsu.
1) From both Osaka or Kyoto, take the Tokaido Shinkansen to Nagoya. At Osaka, go to Shin-Osaka Station to catch the train; the trip to Nagoya will take 55 minutes. From Kyoto Station, the trip to Nagoya will take 40 minutes. At Nagoya Station, transfer to the Chuo Line for the Shinano Limited Express train to Nagano Station, a roughly three-hour trip that travels through the delightful Kiso Valley. At Nagano, basically follow the instructions below.
2) Take the express train to Kanazawa Station and then change to the Hokuriku Shinkansen. This journey goes via the Japan Sea coast. Get off at JoetsuMyoko Station. After exiting the shinkansen exit change to the local ETR line to Naoetsu (Joetsu direction) or to Myoko-Kogen (Myoko direction). These are clearly marked. Purchase your ticket at the entrance.
From JoetsuMyoko Station there are also local buses and shuttles to Arai Resort, Myoko Ski Resorts and other destinations. These leave from the East Exit.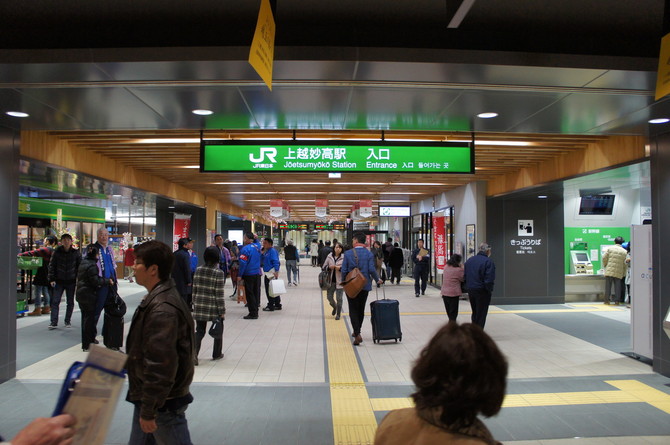 Getting to Myoko Kogen | Nagano Transfer
When you arrive in Nagano:
With the March 2015 extension of the Nagano Shinkansen to Kanazawa, and its renaming as the Hokuriku Shinkansen, the local line from Nagano Station to Myokokogen Station was privatised, making the transfer at Nagano Station a little more challenging.
If coming from Osaka, Kyoto and Nagoya
At Nagano, basically follow the instructions above, except that you may need to exit once from the local train platforms, not the Shinkansen platforms, to purchase your ticket on the Shinano Tetsudo to Myokokogen Station.
To Myokokogen Station via Nagano Station