The Joetsu Myoko Ski Resorts are located in the south-western end of Niigata Prefecture – just a two hour ride from Tokyo on the shinkansen bullet train, then a local train to Myoko Kogen. There is no one Myoko Ski Resort with a single access ticket. Rather it is a series of individual resorts located around the region. The Myoko Kogen Ski Resorts are the most popular with foreign visitors, but there are other great off the radar options scattered throughout the area and in nearby Nagano (see the map at the bottom of this page).
A number of unique skiing opportunities lie across the Myoko Kogen mountain range and surrounding area of Joetsu Myoko ski resorts. There are endless ways to enjoy skiing here, from long, scenic, tree-lined slopes to challenging bump runs—and especially deep, deep powder.
Get Joetsu Myoko Ski Resort updates on social media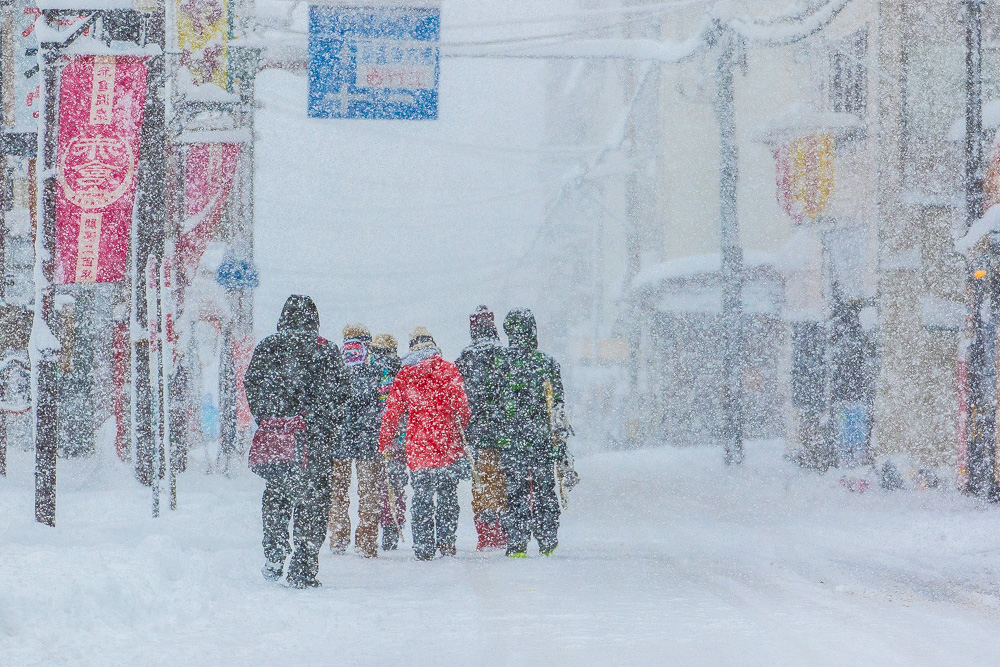 Joetsu Myoko Ski Resorts | Myoko Kogen
The Joetsu-Myoko area is a paradise for winter sports lovers with a great range of accommodation options. Most Joetsu Myoko ski resorts now have a number of ski schools with instructors teaching partly or exclusively in English to help you improve your skiing, or to get out into the beautiful backcountry of the area.
Myoko Kogen Ski Resorts
For those who want variety in their skiing, the interconnected Akakura Kanko Ski Resort (Akakan) and Akakura Onsen Ski Resort together provide 32 different courses for all levels. Ikenotaira Onsen Ski Resort provides both wide, gentle slopes and one of the best board and ski parks in Japan. Myoko Suginohara Ski Resort  has everything from steep bump runs and open slopes to Japan's longest run — measuring a full 8.5 kilometres in length. The small 2 lift Seki Onsen Ski Resort now has a cult following worldwide for it's deep powder and rustic feel.
Further Afield
Charmant Hiuchi Ski Resort is known for it's all-access powder, especially among snowboarders, while Lotte Arai Resort recently re-opened to world acclaim for the quality of it's Japan ski experience. Further afield is Madarao Kogen Ski Resort – famous for it's "Mad-A-Pow" and the off the beaten track ski resorts – Cupid Valley and Seaside Valley.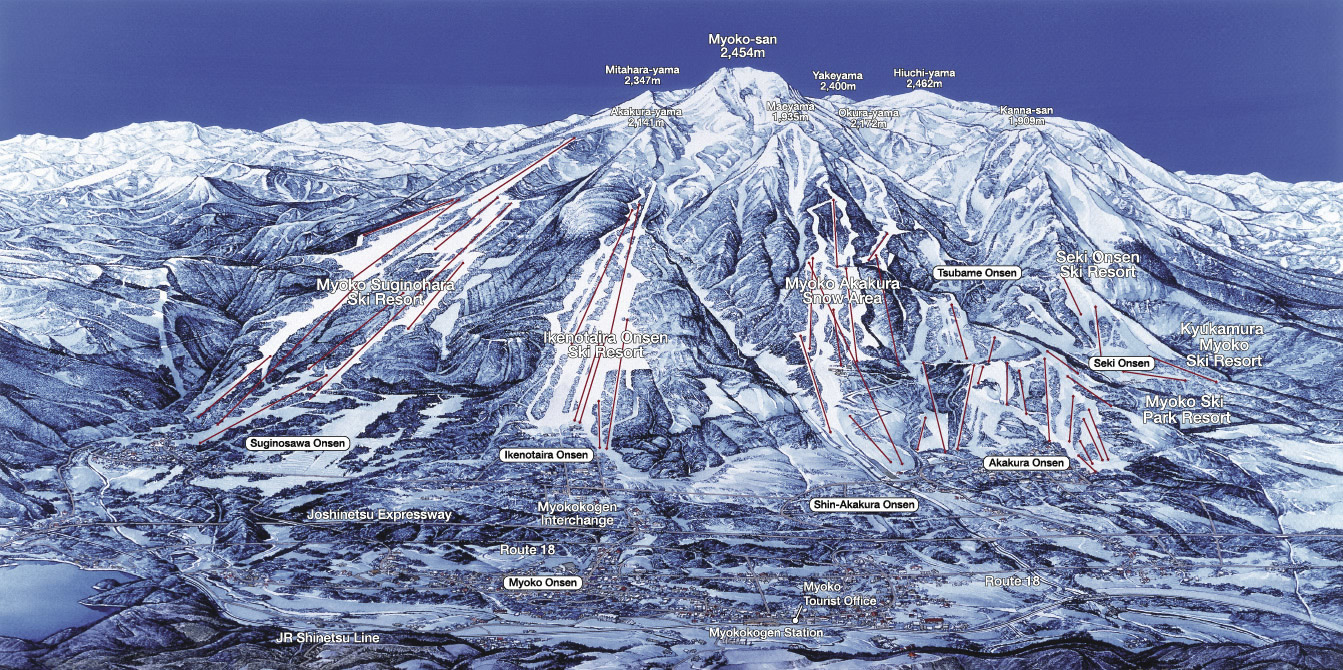 All the Joetsu Myoko ski areas allow full access to both skiers and snowboarders alike, with terrain parks for those who live for the challenge of winter sports along with some sweet tree runs and sidecountry. Need Joetsu Myoko ski schools? You find plenty of options available as well as Joetsu Myoko ski rentals. For Myoko backcountry skiers there is plenty of great terrain to be found and some great local tour guides to help you out if needed. Snowshoe enthusiasts will find several good runs around the Myoko area with rental gear and snowshoe tours available.

Joetsu-Myoko Ski Resorts Map
Not sure where all the Joetsu-Myoko Ski Resorts are? They're all listed here, along with the nearest train station.
Tags:
Joetsu Myoko Ski Information, Mount Myoko Resort, Myoko Kogen, Myoko Kogen Ski Resorts, Myoko Mountain Resort, Myoko Resorts Map, Ski Joetsu, Myoko Kogen Ski Resorts, Myoko Resorts Map, Myoko Ski Resorts, Ski Joetsu, myokoskiresort.com, myoko.net, myokomountainresort.com, mountmyokoresort.com, mtmyokoresort.com