Destination Joetsu-Myoko is pleased to offer a selected range of locally owned Myoko accommodation and Myoko Hotels ensuring that you enjoy your stay in Myoko Kogen to the fullest with a rich cultural experience.
Go here for Akakura Accommodation | Joetsu Accommodation | Arai Accommodation
Myoko Kogen itself consists of five different resort areas: Akakura Onsen, Akakura Kanko, Ikenotaira Onsen, Myoko Suginohara and Seki Onsen as well as numerous other Joetsu-Myoko ski resorts within easy driving distance. Most foreign visitors choose to stay around the main village of Akakura Onsen which is about 10 minutes by taxi from Myoko-Kogen Station. There are also Myoko accommodation options available near the station as well in nearby Lake Nojiri.

Myoko Accommodation | Myoko Hotels
Stay in Akakura Onsen | Ikenotaira | Suginohara
Why choose us?
Destination Joetsu-Myoko are your experts in Myoko accommodation. We've been in and around the area since 1996, promoting the area online since 2003 and know the area intimately. We only offer a small number of selected, locally owned, Myoko accommodation options and we know the owners well. To support these local businesses we keep our costs low so that they are not paying extraordinary commissions to agents, middle-men and booking engines plus we are always available for extra travel advice needed to ensure you have a great visit! Please check out the Myoko accommodation/hotel/lodge options below then get in touch and let us know your needs.
Akakura Onsen
Akakura Kanko
Ikenotaira Onsen
Myoko Suginohara
Seki Onsen
Myoko Onsen
Hotel Map
Myoko Accommodation: Akakura Onsen
There is a good range of accommodation within Akakura Onsen village, easy access to ski rentals and ski schools, along with a great variety of restaurants and bars. All these make Akakura the most popular area to stay in Myoko for foreign guests. Takeda Hotel and Senke Hotel are more traditional Japanese style offerings, whilst Wakui Hotel offers a mix of room styles, some of which include ensuites. Lodge Hunter has a great location right in the centre of the village with combination rooms and an in-house restaurant. Echo Hotel overlooks Akakura Onsen Ski Resort and offers a variety of room sizes in Japanese style. Wasabi Cabins (coming soon) offers excellent self contained Myoko accommodation options, whilst Refre Myoko (coming soon) is a small boutique hotel with an excellent location just off the main street of Akakura Onsen. If you are looking for ski-in, ski-out Myoko accommodation look no further than popular Hotel Alp Myoko (coming soon) or the neighbouring boutique lodge AIR Myoko (coming soon) that offer access to two resorts.
Find more Akakura Onsen accommodation options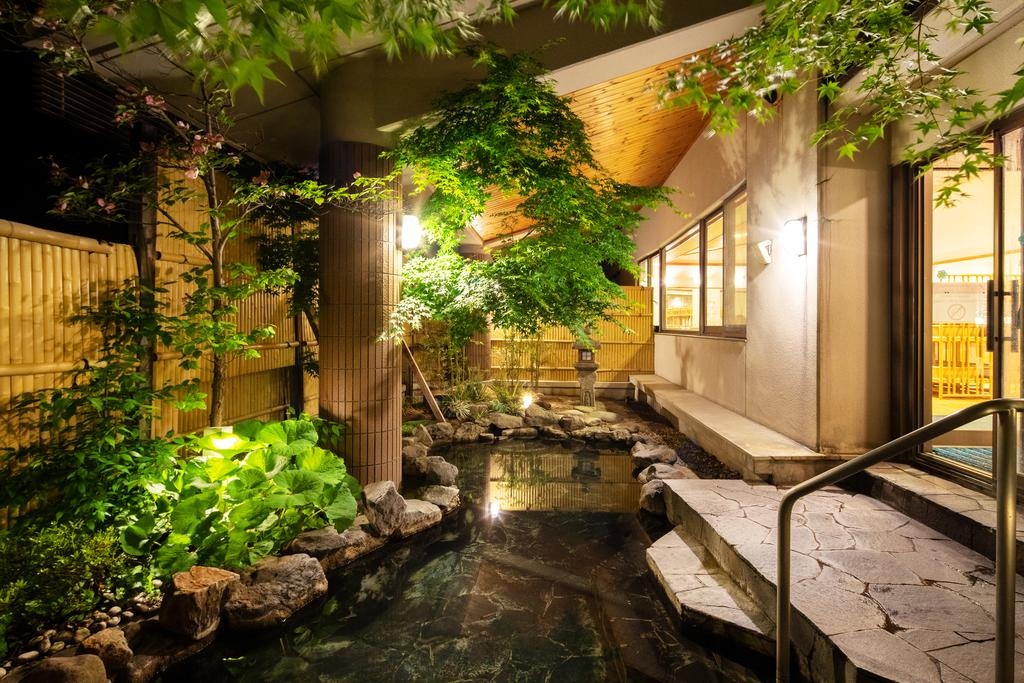 Myoko Accommodation: Akakura Kanko
Most Akakura Kanko accommodation is a little further from the lifts than the accommodation in Akakura Onsen. However most are still walkable to the Akakura Kanko lifts or you can take the Mount Myoko Shuttle to various resorts. Guest House Bunk (aka Bonku or Bonk) is a bright and clean pension style guesthouse located near the Akakan (Akakura Kanko) Resort ski lifts. Myoko House is a comfortable 7 room lodge located just further below with a variety of different style rooms. Pension Fuyu is another small lodge owned by a lovely older local couple.
Check Akakura Kanko accommodation options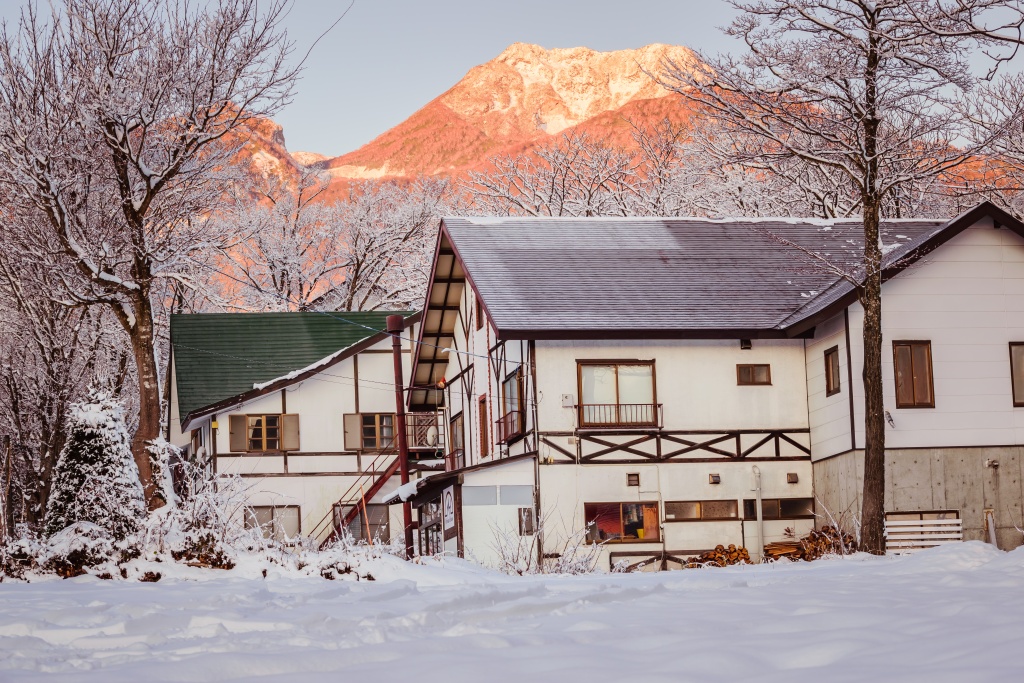 Ikenotaira Onsen Accommodation
Ikenotaira Onsen is becoming an increasingly popular place to stay for foreign visitors. There are a handful of nice restaurants, a large onsen complex with gift shop and restaurant, plus a new English language ski rental and ski school operation. Resort Project Myoko is a comfortable Ikenotaira Onsen hotel run by the same family who own the unique and well reviewed Park Lodge Sekine. The Japanese style rooms are very large with a traditional low table and floor seating on the tatami mats. Park Lodge Sekine is unique Myoko accommodation in Ikenotaira Onsen. The lodge is an old sake brewery building relocated and transformed into an inn where guests can feel like they have stepped into a time gone past.
Also check: Yado Brodiaea | Lime Resort | Cafe Cerisier | Lodge Amenou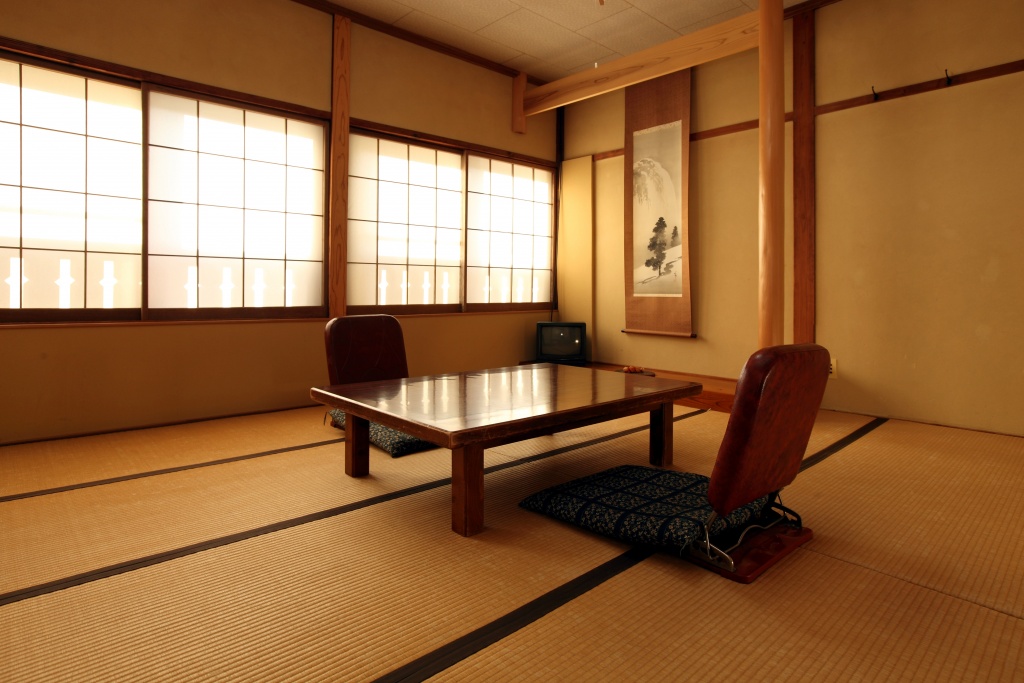 Myoko Suginohara Accommodation
Myoko Suginohara Ski Resort is regarded as one of Japan's top ski areas and boasts some of Japan's longest ski trails. Suginosawa Village is quite quiet at night. There are daytime shuttles available to nearby resorts.
Sora Tobu Usagi Myoko
Sora Tobu Usagi is a very popular choice in ski in, ski out Myoko Suginohara accommodation. This inn offers comfortable and affordable Suginohara Ski Resort accommodation with a fantastic location right in the middle of the Myoko Suginohara ski area trails, with one of the chairlifts going almost past the window. Rooms feature a tatami (woven-straw) floor, a low table with seating cushions and traditional futon bedding. Bathroom facilities are shared & coin-operated laundry facilities are available. For dinner, Sora Tobu Usagi Myoko offers an optional Japanese or Western meal at their in-house restaurant. They also offer some self-contained Myoko accommodation which would be ideal for a family or small group of friends. Rates start from a very low ¥3,000 per person, per night. See reviews for Sora Tobu Usagi Myoko
Also check: Gozan Lodge | Lodge Drifter | Ryokan Tabataya | Red Fox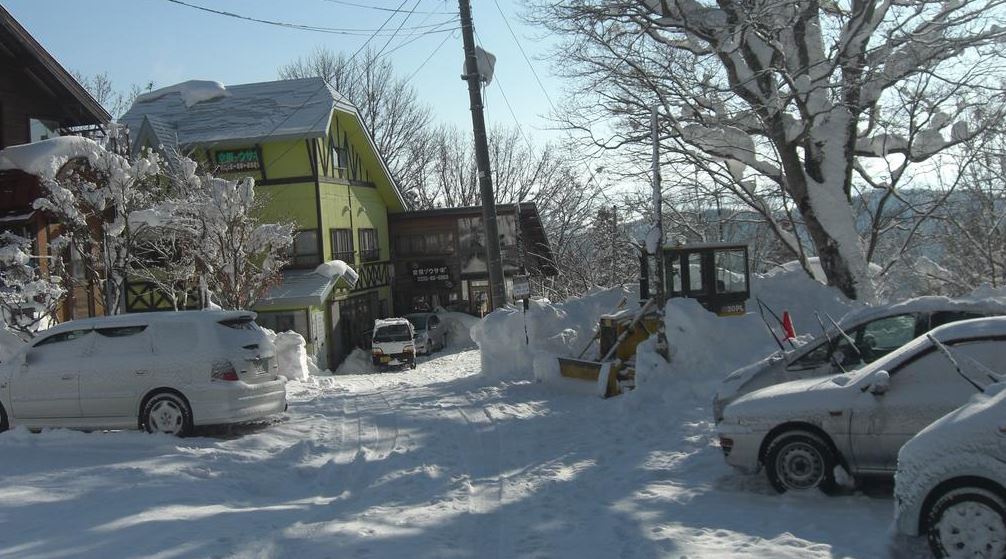 Myoko Accommodation: Seki Onsen
Seki Onsen Village is unique, surrounded by traditional streets of days gone by and dotted with onsen hotsprings. So after spending a great day in the Seki powder, guests can relax in body and spirit with a soak in the onsen. Being only a small village there are limited Seki Onsen accommodation options & places to eat.
Yama no Yu Sekizen
Yama No Yu Sekizan is a small family lodge just a very easy walk from the Seki Onsen lifts. They offer simple Japanese rooms and baths/shower are available at the in-house onsen. Inclusive packages including dinner are available. Rates at Yama No Yu Sekizan start from ¥5,400 per person, per night (twin room) inc. breakfast. See Yama no Yu Sekizen reviews
Also check: Kyukamura | Hotel Iwatoya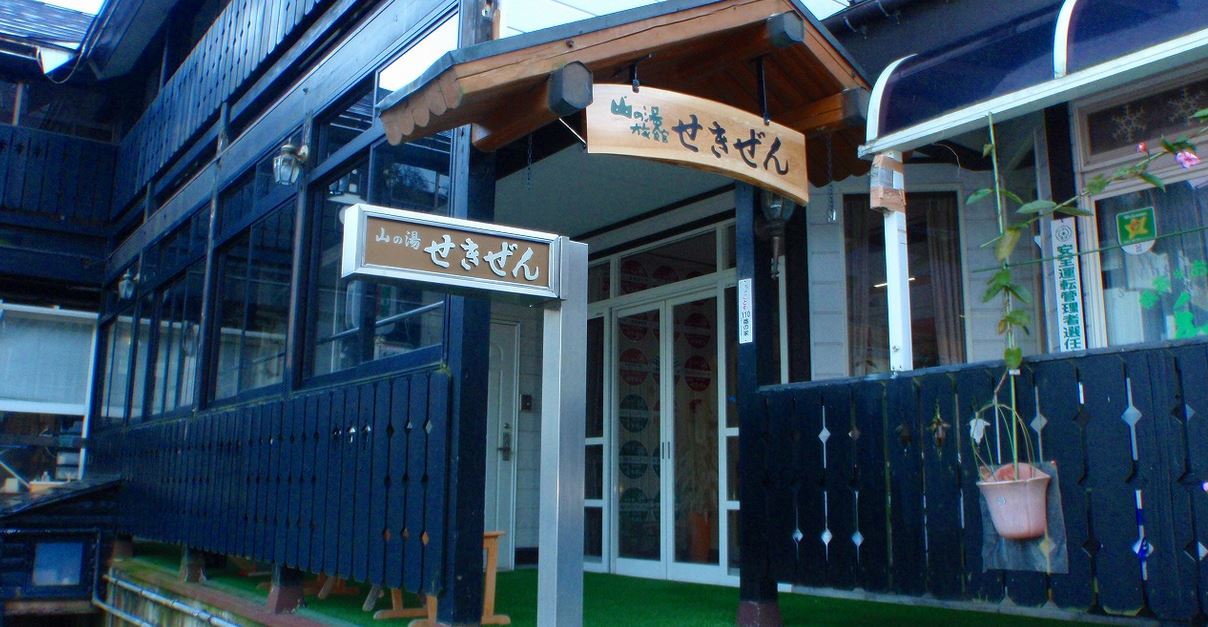 Myoko Onsen Accommodation
Myoko Onsen is a very short drive or shuttle from Myoko Kogen Station. Local buses run from nearby to four resort areas. The surrounding area has a couple of small restaurants open at night.
Myoko Ryokan Kofukan
Kofukan Ryokan was opened in 2004 featuring large rooms, wonderful relaxing hotsprings, discount ski lift tickets and marvellous views of Mt. Myoko. For dinner Kofukan offers an optional multi-course Japanese dinner for guests. A free shuttle is available on weekdays only to/from Akakura Ski Resort and Ikenotaira Ski Resort. Kofukan Ryokan Myoko offers friendly service (in English), great food and reasonable tariffs, starting from ¥7,900 per person, per night (twin room) inc. breakfast. One child under 2 years stays free of charge when using existing beds.
Read reviews for Myoko Ryokan Kofukan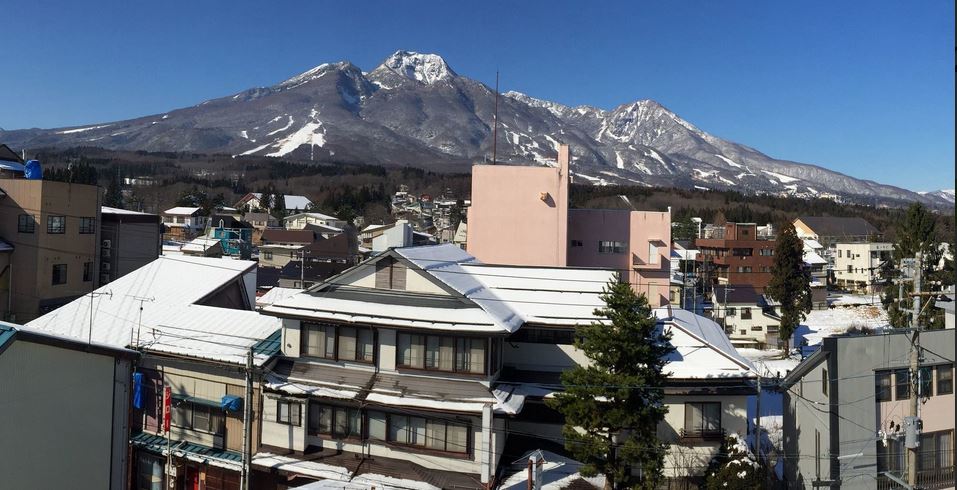 Myoko Hotel Map
Check your Myoko hotel location on the map below
Heading elsewhere on your ski trip? Click on the following for accommodation in:
Madarao | Shiga Kogen | Nozawa Onsen | Togari Onsen
Arai | Lake Nojiri | Hakuba | Joetsu | Nagano City
Other ways we can help you
At Destination Joetsu Myoko we can not only help you get a great deal on Myoko accommodation but can additionally assist with the following services:
Contact us for details and a quote.
Check Myoko Accommodation online
On a mobile device? Click here to book Myoko accommodation
Can't find something suitable? Send us a Myoko accommodation request!
Tags: Myoko Accommodation, Myoko Hotels, Akakura Onsen Accommodation, Akakura Kanko Accommodation, Ikenotaira Onsen Accommodation, Myoko Suginohara Accommodation, Seki Onsen Accommodation, Myoko Ryokan Kofukan, Guesthouse Bunk Myoko Lodge, Yama no Yu Sekizen, Sora Tobu Usagi Lodge Myoko
Accommodation myoko.jp/stay