The goal of Lotte Arai Ski Resort is to be the premium mountain resort in Asia. The Lotte Arai Ski Resort was re-opened in 2017 after extensive refurbishment and updating. So if you are a budget skier, or someone used to cheaper prices at older resorts in Japan, then you may want to consider your total trip budget when doing your planning.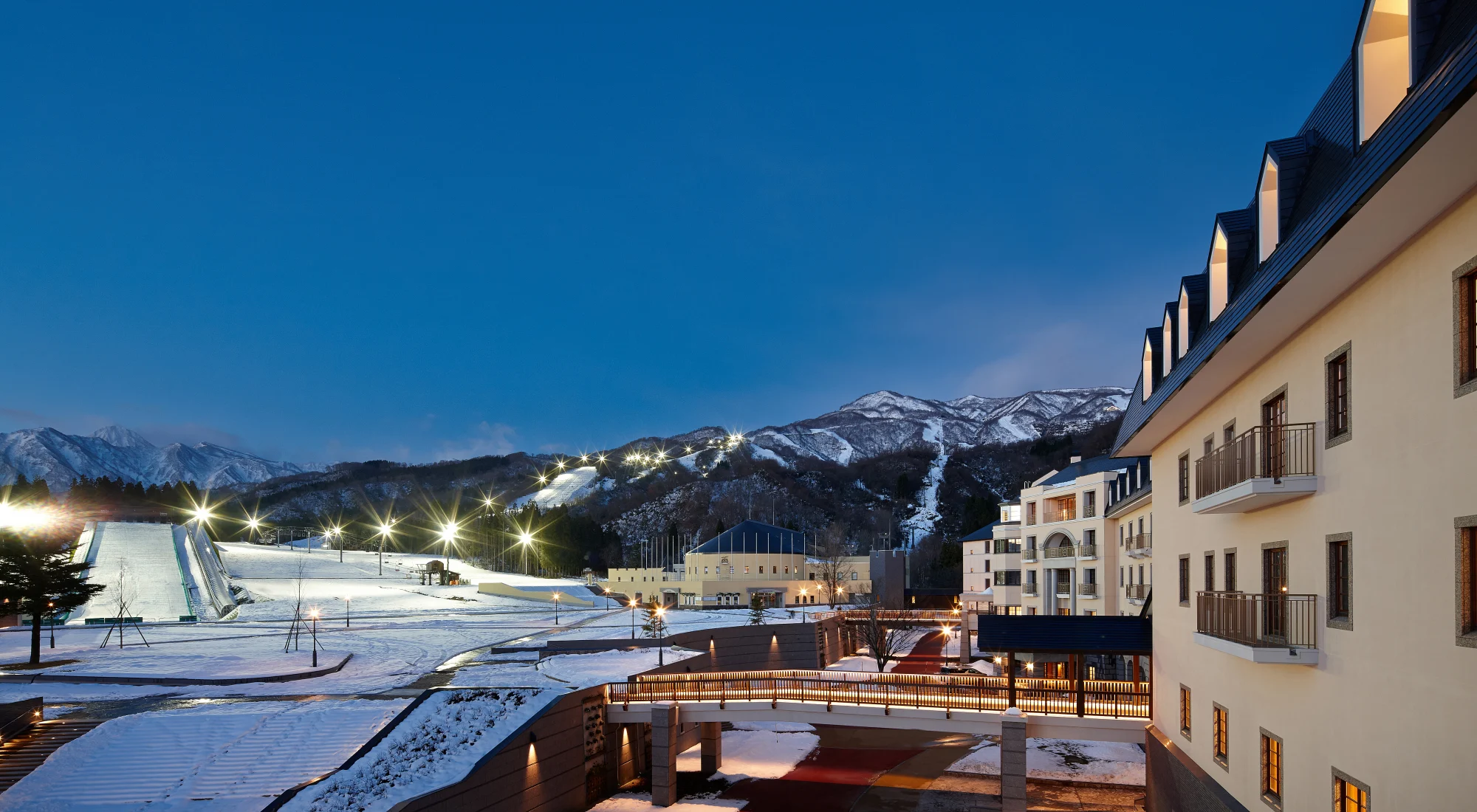 Lotte Arai Ski Resort
Luxury Ski Resort Japan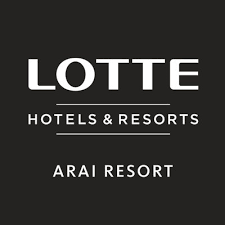 The new owners of this Luxury Ski Resort Japan have ensured a big expansion of allowed, avalanche controlled, inbound terrain zones for powderhounds with a total of ten avi-controlled freeride areas. The resort is best suited to intermediate skiers and snowboarders but there is some terrain for beginners and, increasingly more so now, advanced skiers. Average snowfall at Arai is 15+ metres. It's closer to coast than nearby Myoko Kogen, so it usually gets even more snow than those resorts.
In addition to the 14 great ski courses and first-class leisure activities, the resort offers spas, pools, restaurants, cafes, function rooms, and a 1501-meter zip tour – the longest in Asia. Springing up from a depth of 1750m, the natural onsen hot spring at Arai Resort Hotels contains alkaline-based waters that are good for the skin, creating an exquisite relaxation experience. The lifts stay open Mid-December through mid-May (depending on snow conditions). Regular day lift tickets are 7,ooo yen per adult, although packages are available.

Arai Info Box
Transport/Location
Stay
Rules
Map/Stats
School / Rentals
Webcam
Weather
Video
Area Map
Getting to Lotte Arai Ski Resort
The resort at Arai is located 15 kilometres from JoetsuMyoko Station – about two hours from Tokyo on the bullet train. From JoetsuMyoko Station you can catch one of the free shuttles or a taxi.
There is also a shared taxi shuttle available from Tokyo airports which takes rough 5 hours inc. comfort stops and costs 19,900 one way, per adult. You can request a booking here.
If you are staying in the Myoko Kogen resorts area a Myoko-Arai shuttle service is available twice a day between Akakura Onsen / Arai Resort and takes roughly 60 minutes. Some Myoko accommodation providers offer a shuttle service. Ask when booking.
Rental cars are available from JoetsuMyoko Station if you are staying in nearby Arai accommodation rather than at the resort.
Click to enlarge pictures below for getting to Lotte Arai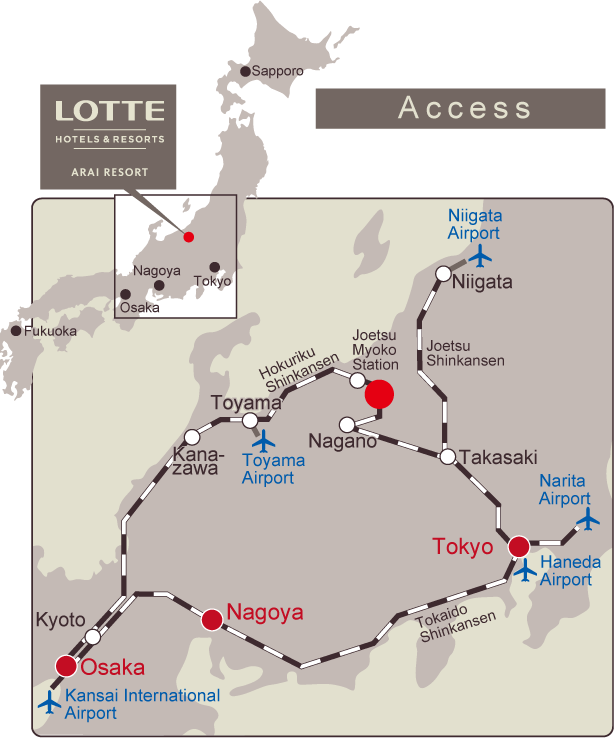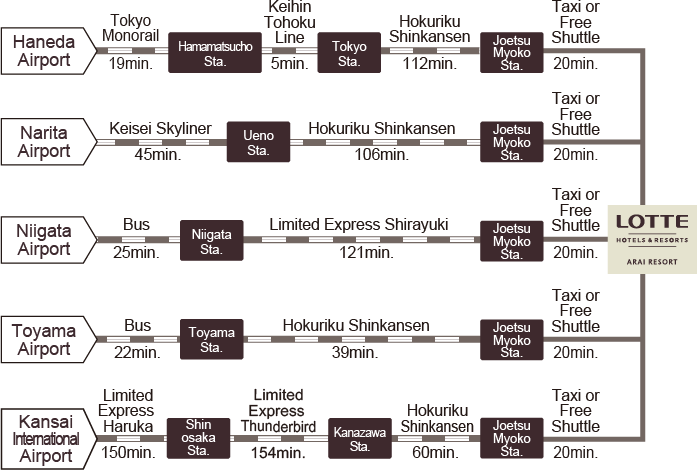 Lotte Arai Ski Resort accommodation – recommended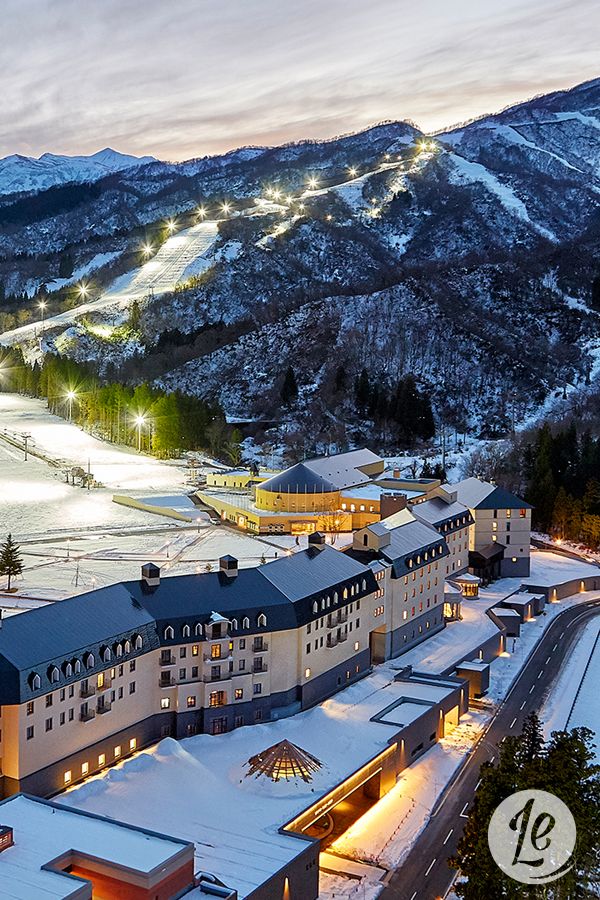 Lotte Arai Ski School
Myoko Snowsports Arai offer a variety of private lessons and children's group programs at this Joetsu-Myoko ski school to match your snow holiday experience. All programs are run in English by qualified instructors.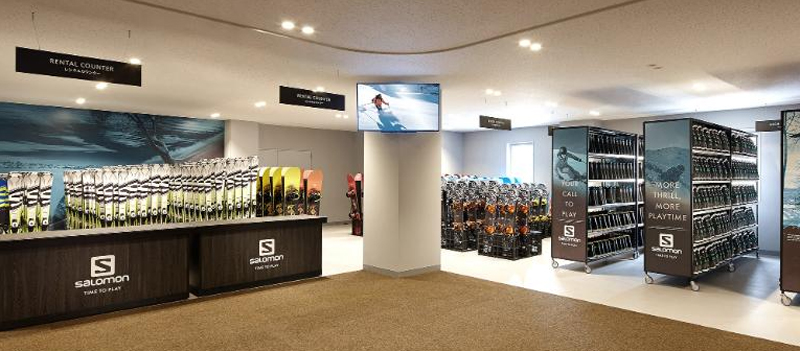 Lotte Arai Ski Rentals
Ski equipment rentals for Lotte Resort are available at Salomon Station at the gondola base. In addition to a great range of Salomon products there is also various other high-end brands and models offered. Open 8.00Am – 8.00PM
Lotte Arai Ski Resort Webcam
This is a live Lotte Arai webcam that only operates during winter.
There is no still image webcam at Arai Ski Resort available. The below image comes from the nearby JoetsuMyoko shinkansen station. More live streaming videos of the resort are
available here
.
7-Day Weather Outlook for Lotte Arai
Arai Ski Resort Video
Myoko Arai Area Map
Click top right to enlarge
Reviews of Lotte Arai Ski Resort
See more reviews of Lotte Arai Resort here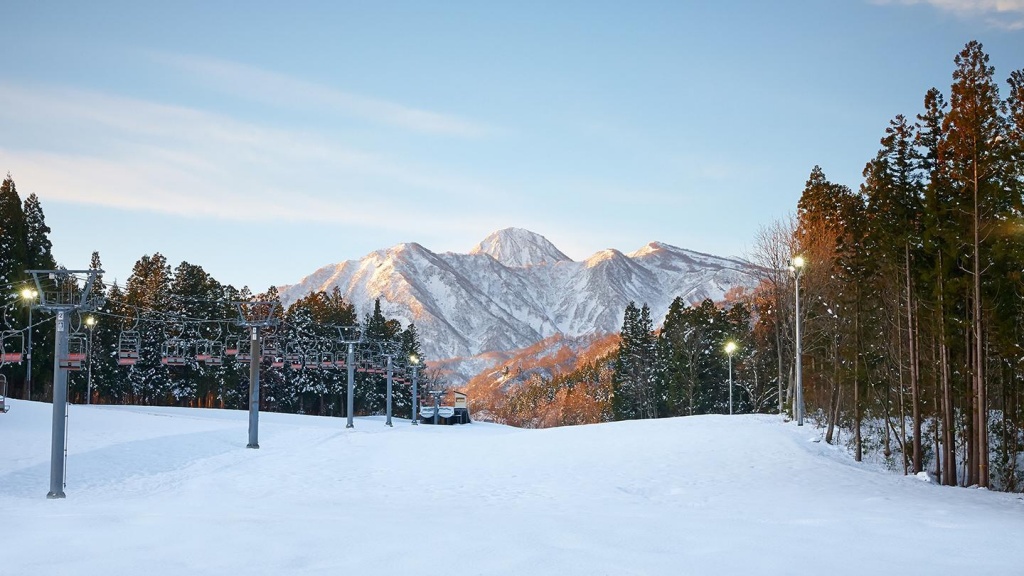 Redirect from: araiskiresort.com
Tags: Getting to Arai, Lotte Arai Ski Rentals, Lotte Arai Ski Resort, Lotte Arai Ski School, Lotte Arai Ski Trail Map, Reviews of Lotte Arai Ski Resort, araiskiresort.com, Ski Rentals, Ski School, Webcam, Map, Access, Luxury Ski Resort Japan