We here at Destination Joetsu Myoko are delighted to share an old Akakura photo collection that was sent to us by David Warner in the USA. These were mostly taken around what is now the Akakura Kanko Resort area but others were taken from the train. These photographs belonged to his grandfather Albert Leroy Evans Jr.
Old Akakura Photo Collection (1947)
Myoko historical photographs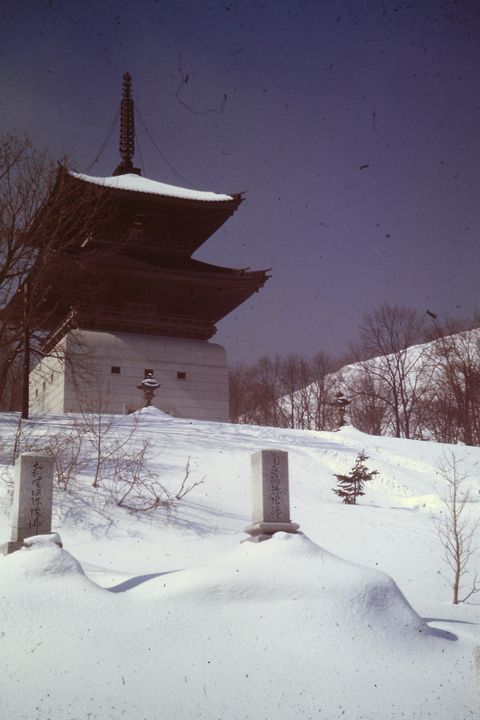 Albert was stationed at Chitose, Ashiya and Misawa in the late 1940's during reconstruction. He flew P-51's with the 49th Fighter Group 8th Squadron. He loved to ski, being from Minnesota, so he and his friends often travelled and would ski while in Japan. Albert's wife (Myrtle Chapman Evans) also joined him and is featured in some photos (in blue ski suit and white head scarf).
He had a close friend named "Mort" Gosling that he used to ski with all the time.  They probably came to the area via train when he was in Ashiya or Misawa. He would have taken the old Shin'etsu line train from Ueno Station in Tokyo. Quite possibly an overnight journey at that time but now a quick shinkansen trip.
At that time Myoko Kogen Station was known as Taguchi Station. As there was limited transport, some young local men would transfer people, luggage and goods up from the station to Akakura Onsen in 'litters' – a distance of around 5km up hill!
A little known fact was that the Akakura Kanko Hotel was taken over for R&R purposes for some time by the reconstruction forces. If you speak to many of the older locals they will still have vivid memories of the people who used to come and stay and will share happy memories. A number of local men and women were employed directly at the hotel or indirectly via other services.
We hope you enjoy this little slice of Akakura history and please do share a link of these to friends who might be interested! Do note that the photos are copyrighted and can only be shared with permission from David. Contact us to arrange this.
Click on the image below to view the gallery.