SOLD
You can buy this Japan ski hostel for sale for less than a condo in Sydney, HK or London! Not only the freehold property but also the business goodwill is included in this ongoing popular backpacker business with hordes of great reviews. So good, it's rated #1 speciality lodging in the area! Everything is in place for you to step right in, run the business and get income stream immediately.
Japan Ski Hostel For Sale
Live the Dream in Myoko!
Hey there ski-changers, here's an opportunity for you in Akakura Onsen, Japan. It's time for you to live your best life as the master/mistress of your very own ski hostel. Continue the business with up to 35 places for paying guests or convert it into your own special Japan snow pad to entertain your friends and family.
The Myoko Kogen ski area is less than 3 hours by train and a short bus/taxi ride from Tokyo. So for the cost of a tiny apartment in a big city with no views or off street parking you can have this Myoko ski hostel, just off the main drag of Akakura Onsen and only 300 metres from the lifts.
The hostel is approximately 420 square metres* in total (not including non-guest areas such as the attic) and has room for 32-25 sleeping guests plus staff quarters. There's a full commercial kitchen, large foyer, communal living room with fireplace, dining area with pellet stove that seats 26 guests, a large drying area and maintenance room plus great sunrise views of the mountains right outside the door. The hostel is set on 512 sqm of land.
*size to be verified by buyer
Can you imagine yourself here?
Hostel overview
The hostel is located in Akakura Onsen ski village about 5 minutes walk (300m) from the bottom lifts and 2 minutes walk to the main street of bars and restaurants. The property is a 5 minute walk from the Akakura Onsen Winter Bus Stop.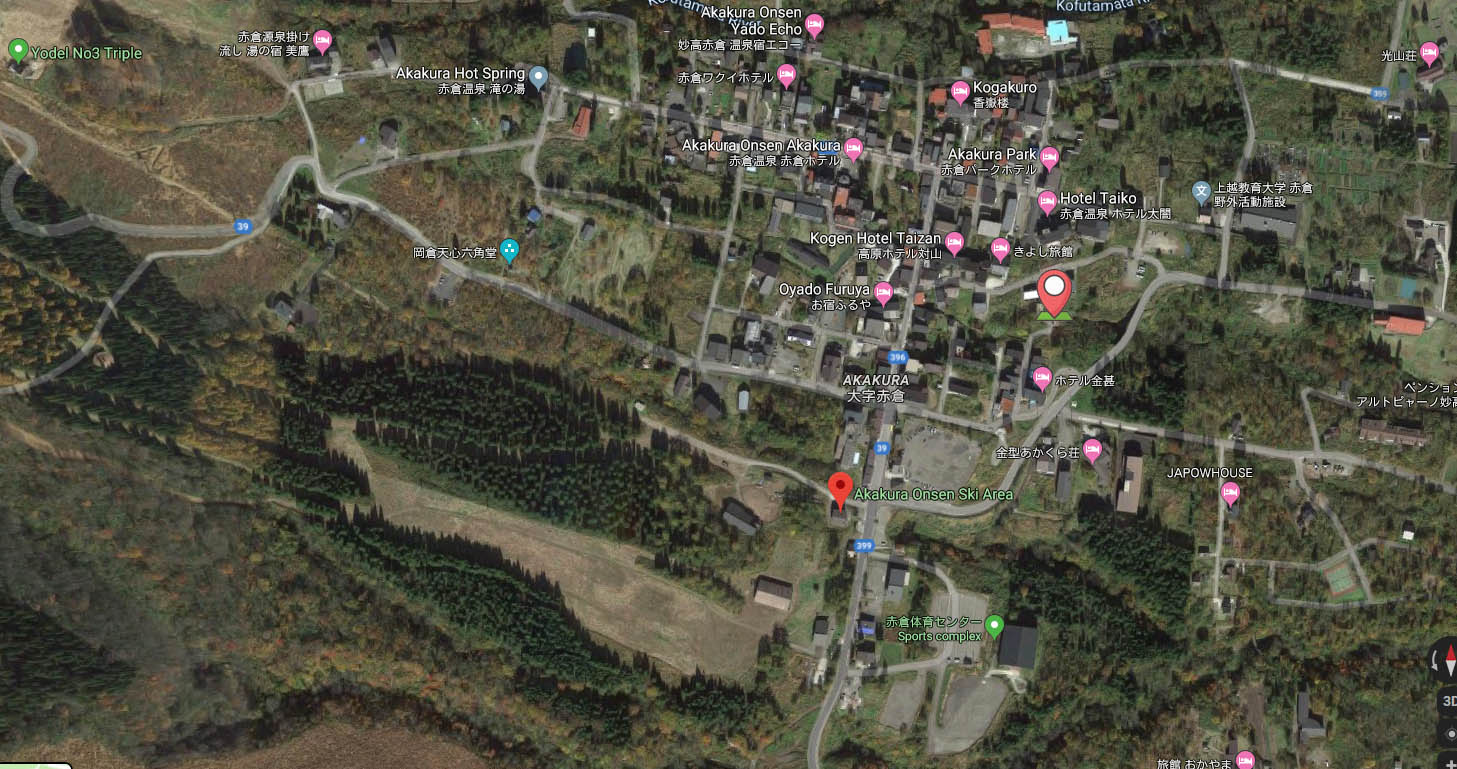 The property is a former local minshuku renovated and set up as an international hostel in 2015. The hostel has it's own kitchen, communal and dining areas plus lounge with a wood burner, big screen projector, games and speaker system. The dining area has a view over the valley and breakfast bar.
There is a variety of accommodation currently offered including shared dorms and private rooms. Dorm beds cost between 2,900 yen and 4,900 yen per night whilst Japanese style private rooms for 2-3 people are offered between 9,000 yen and 17,000 yen per room.
Click to view the floor plan (.pdf)
Dorm Room
Kitchen view
Drying Room
Lounge Room
Private Bedroom
Dining Area
>
About the Myoko ski resorts
The location of this Myoko backpackers hostel lends itself perfectly to not only the local ski areas but also as a base to explore the numerous surrounding resorts & backcountry. The Myoko mountain area consists of 6 ski resorts, that are easily accessible from Akakura Onsen village, where the hostel is located.
Akakura Onsen and Akakura Kanko are a short walk from the hostel, there's also a shuttle bus available between both resorts. After a huge dump of snow you'll even be able to board or ski back down to the hostel. Arai, Madarao, Ikenotaira and Suginohara are all accessible by local shuttle, whilst the famous powder heaven resort of Seki Onsen is accessible by taxi and private shuttle.
Why should I buy in Myoko?
Myoko Kogen is one of the new 'hot' destinations for foreign skiers, particularly Australians. As prices are beginning to rise with increasing investment in the area, now is a great time to be getting in. And because it's already operational as a hostel most of the work is already done. You get a great business, rated #1 by guests, as well as a freehold property. Business financials can be discussed with serious buyers after the signing of an in-confidence agreement.
Not so sure? Here's some further reading: Why Australian investors are heading to Japan's ski fields
So how much is it?
It's on the market at the greatly reduced price of ¥22,500,000. That's only A$240,000 or US$165,000! Offers may be considered and the current owners are keen to have the new buyers in running the hostel this season. So there will be an immediate return on investment. They'll assist where possible with transfer of necessary licences to enable this.
So pack up and sell your 2BR Melbourne or Sydney unit and get on a plane to Japan. Opportunity knocks!
Need more info? Fill in the form below and we'll answer all your questions. Confidential and serious buyers only please – no tyre kickers!
[ninja_form id=1]
Thanks for submitting your information